The Conversations Mailbox is where you can manage, interact with, and create new communication with people inside and outside of your gym. You can access the new Conversations Mailbox by going to Communication > Conversations. 

Important: Admins, Managers, Coaches, and Staff all have access to the same shared Conversations Mailbox; this allows everyone at your gym to stay connected and on the same page for all email communication.

For more information on creating new emails with Conversations, see this help article: How Do I Create New Emails via Conversations?
 
At a Glance
In addition to the basic information such as the Sender, Recipients, Subject, Status, and Date, the Unread column shows you which emails have or don't have unread messages, and which were sent as 'No Reply' (i.e. don't allow conversations).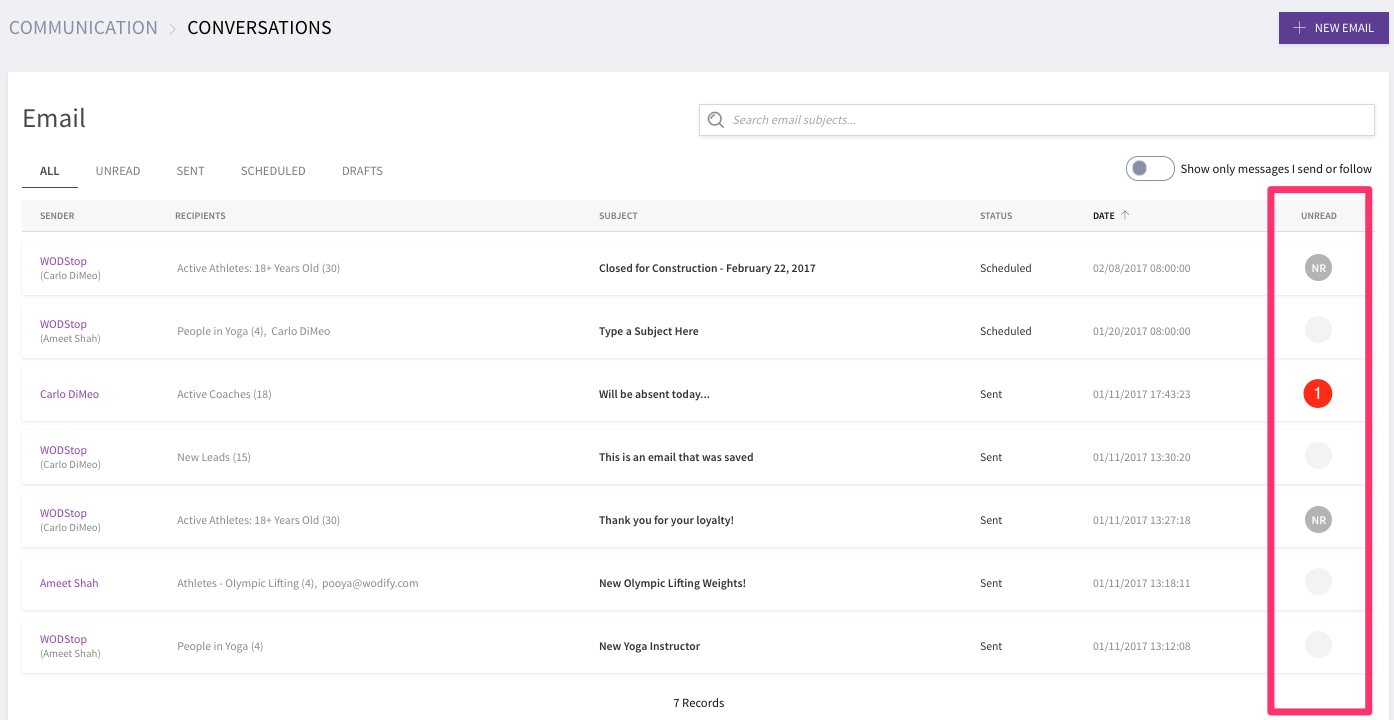 Note: Understanding the Unread column of the Conversations Mailbox:
Conversations with no unread messages will show a blank grey circle.
If there are unread messages, the count of those unread messages will be shown inside a red circle.
If sent as a 'No Reply' email, then you will see a grey circle with the letters 'NR'. 


Email Filters
There are 7 different email filters you can use to easily identify the email you're looking for:
All - selected by default, shows every email in your system
Unread - filters to only emails with unread messages/threads
Sent - filters to only emails with outbound messages that were sent
Scheduled - filters to scheduled planned to be sent in the future
Drafts - filters to any unsent emails that were saved
Search for email subject - type into this text input box to search emails by subject
Show only messages I sent - toggle to see messages where you're the original sender



Note: Emails that are in the process of being sent (i.e. with a Status of 'Sending') will show up in your 'Drafts' folder and cannot be opened. Once the status changes to sent, you can find and view their details in the 'Sent' and 'All' folders.  
Conversation Threads
From the Conversations Mailbox, you can click into any email to view its details

Conversation Threads contain the individual conversations you have with each of your recipients. They can be expanded to reveal all outbound and inbound communication, and collapsed to hide them. Each thread shows a timeline of messages, where outbound messages are on the left, and inbound messages are on the right.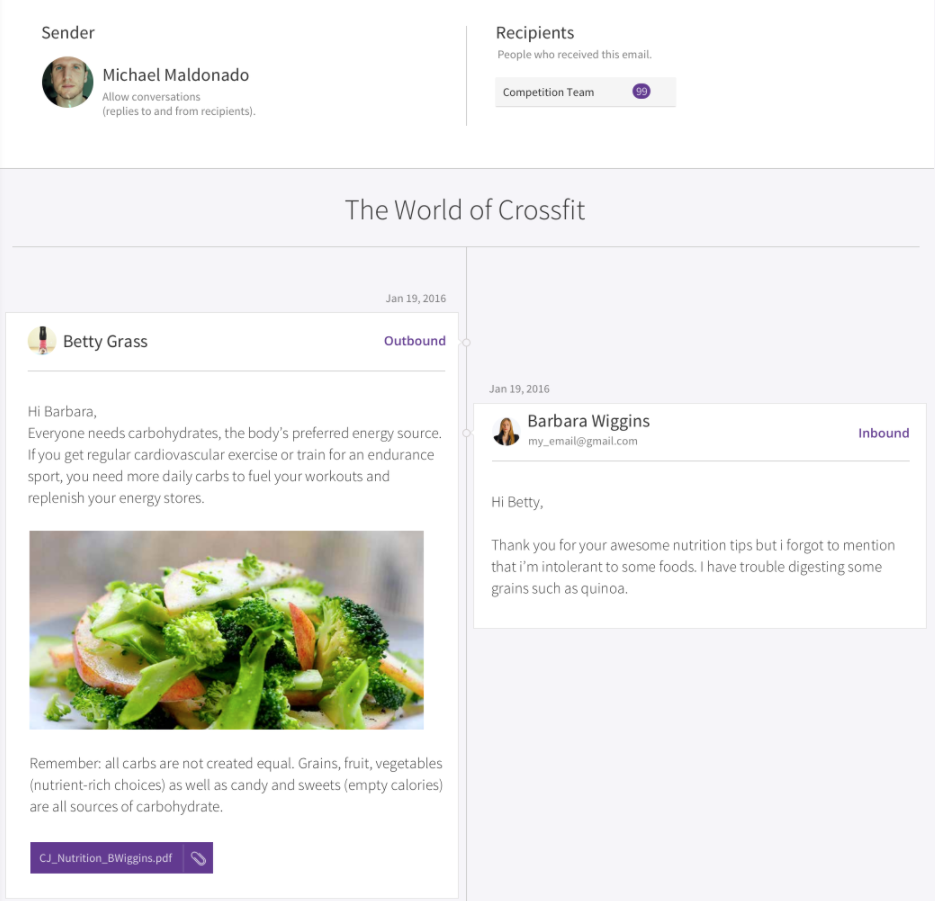 Note: Each email recipient will have their own Conversation Thread. Individual emails are sent to each recipient that is part of your message. This means that recipients do not see each other.
Replying to Conversation Threads
If you did not select the 'No Reply' option, you can correspond with recipients by replying as yourself or as the original Sender. If you are the original sender, then you can only reply as yourself.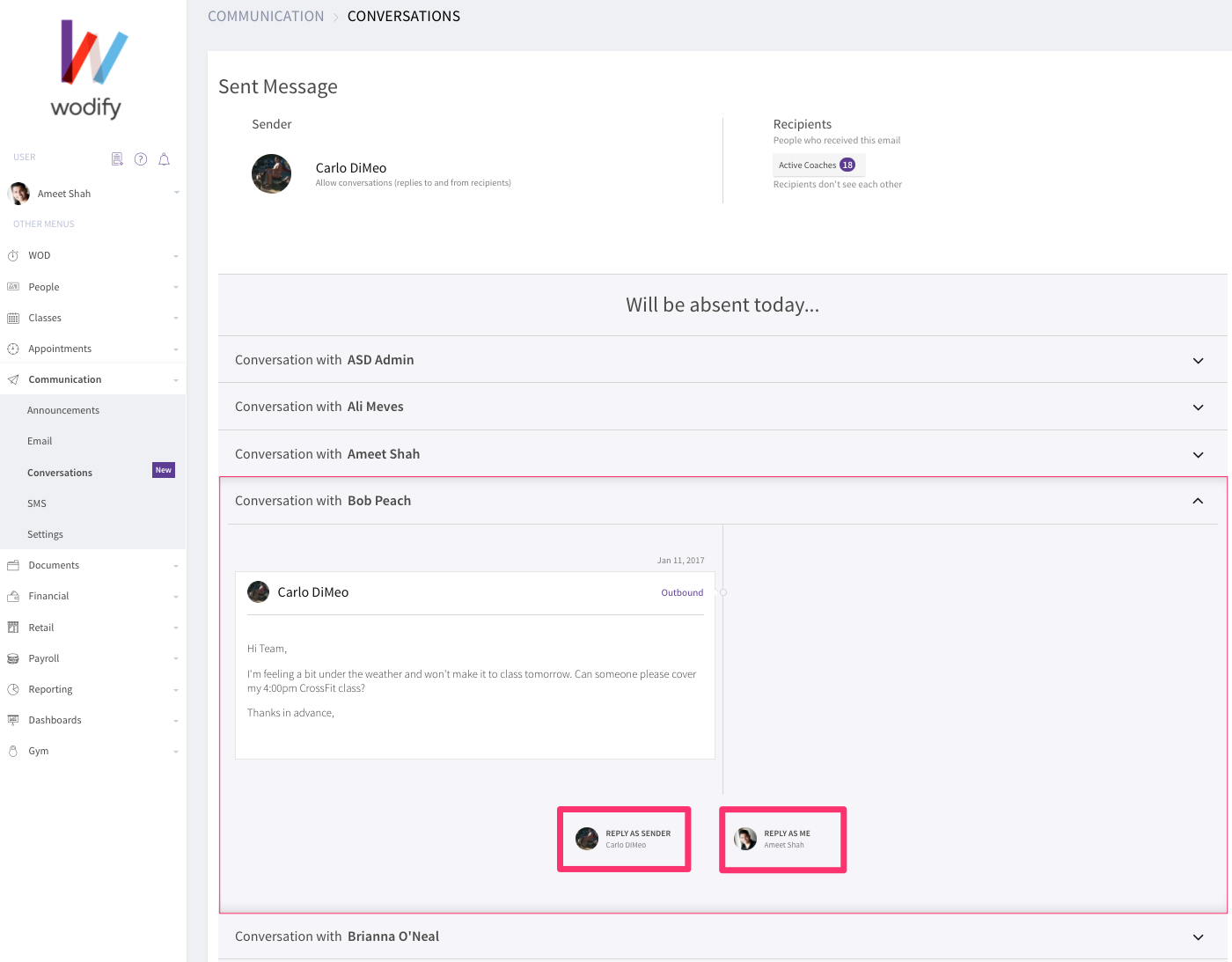 Note: You can also reply directly to Conversations from your own computer or device outside of the Wodify Conversations mailbox. Conversation Threads are updated in real-time as new replies are sent.