Conversations build on Wodify's legacy email system and take communication with your Clients to the next level. With Conversations, not only can you leverage Segments to create custom recipient lists,  but you can also select your Sender, save Drafts, email test previews, and much more!
In this article, we will cover:
Conversations Overview Video
Conversations At-A-Glance
In addition to the basic information such as the Sender, Recipients, Subject, Status, and Date--the Unread column shows you which emails have or don't have unread messages, and which were sent as 'NR' (No Reply; i.e. don't allow conversations).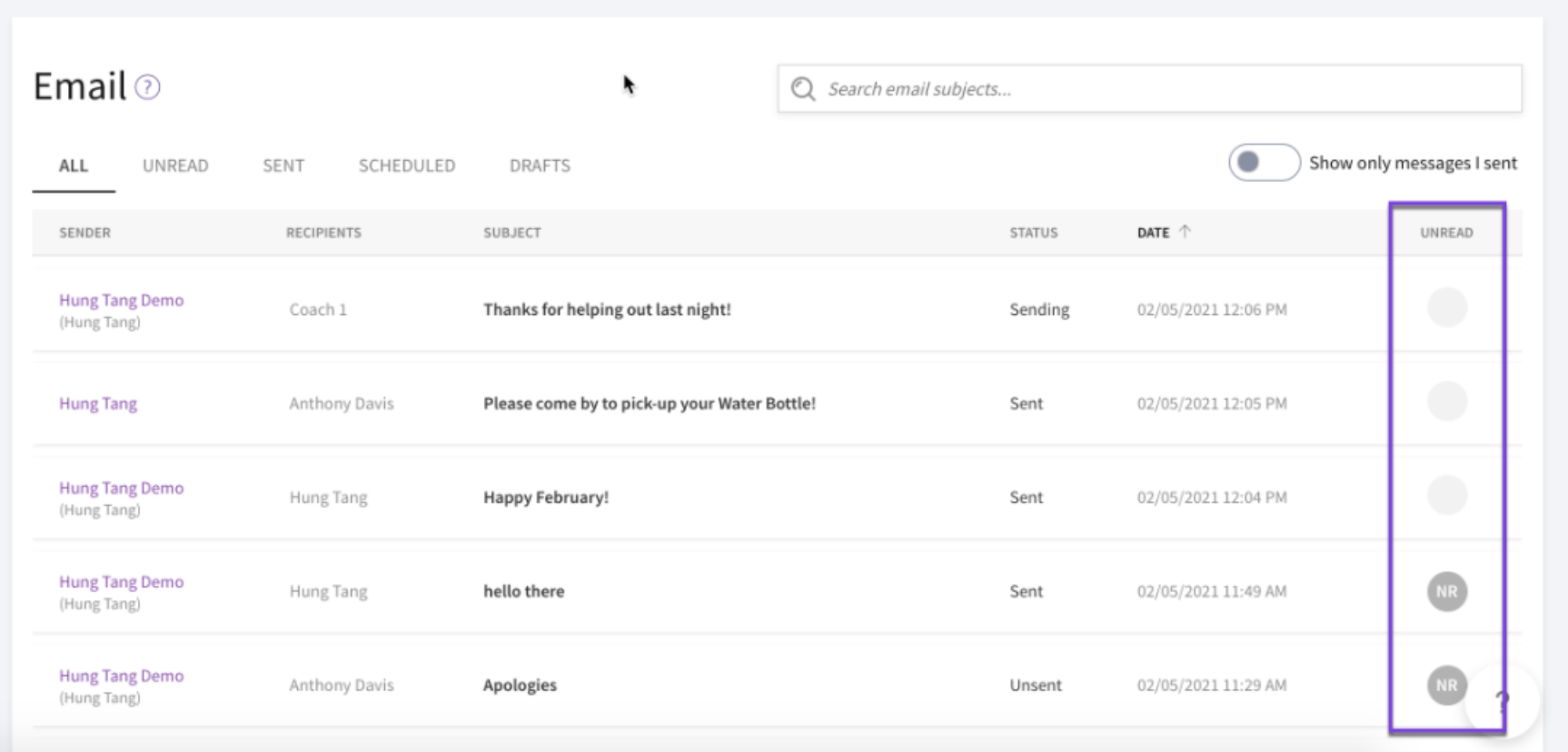 Note: Understanding the Unread column of the Conversations Mailbox:
Conversations with

 

no unread messages

 

will show a blank grey circle.
If there are

 

unread messages, the count of those unread messages will be shown inside a red circle.
If sent as a 'No Reply' email, then you will see a grey circle with the letters 'NR'. 
Creating a New Email
1. Start by going to Communication > Conversations, then clicking '+ NEW EMAIL' on the top right of the screen. From here, you will discover a number of exciting options to custom tailor your messaging.


2. Choose which 'Send As' option to use as part of your email communication:
As the Business - Don't allow conversations ("noreply sender")

Select this option if you want the sender to be the business, but do not allow replies: one-way communication to your recipients.
As the Business - Allow conversations (replies to and from recipients)

Select this option if you want the sender to be the business, and you want to allow conversations (i.e. your recipients can reply and responses will be shown).
As Self - Allow conversations (replies to and from recipients)

Select this option if you want the sender to be yourself, and you want to allow conversations.
Note: Selecting to send 'As the Business' will apply the user's default location email signature template. See the "Customize Email Signatures" section in this help article for more information on how your 'Send As' selection is integrated with email signature templates.
3. Choose your recipients:

Create custom distribution lists by manually adding people inside or outside of your system individually - or leverage the power of Segments to select a pre-defined group of people from your Segment list.
Note: Each email recipient will receive their own individual email, and those recipients will not see each other in the "To" field of the email (similar to BCC).
TIP: You can add multiple Segments to your recipients' list; just type to search for your Segments and add. No Segments yet? No problem, just click 'Choose Segments' and then click 'New' to create one on the fly. 
4. Give your email a Subject, and leverage the power of the message editor to tailor your message to your recipients. You can customize the style of your email, embed images, use placeholders, and much more using the message editor.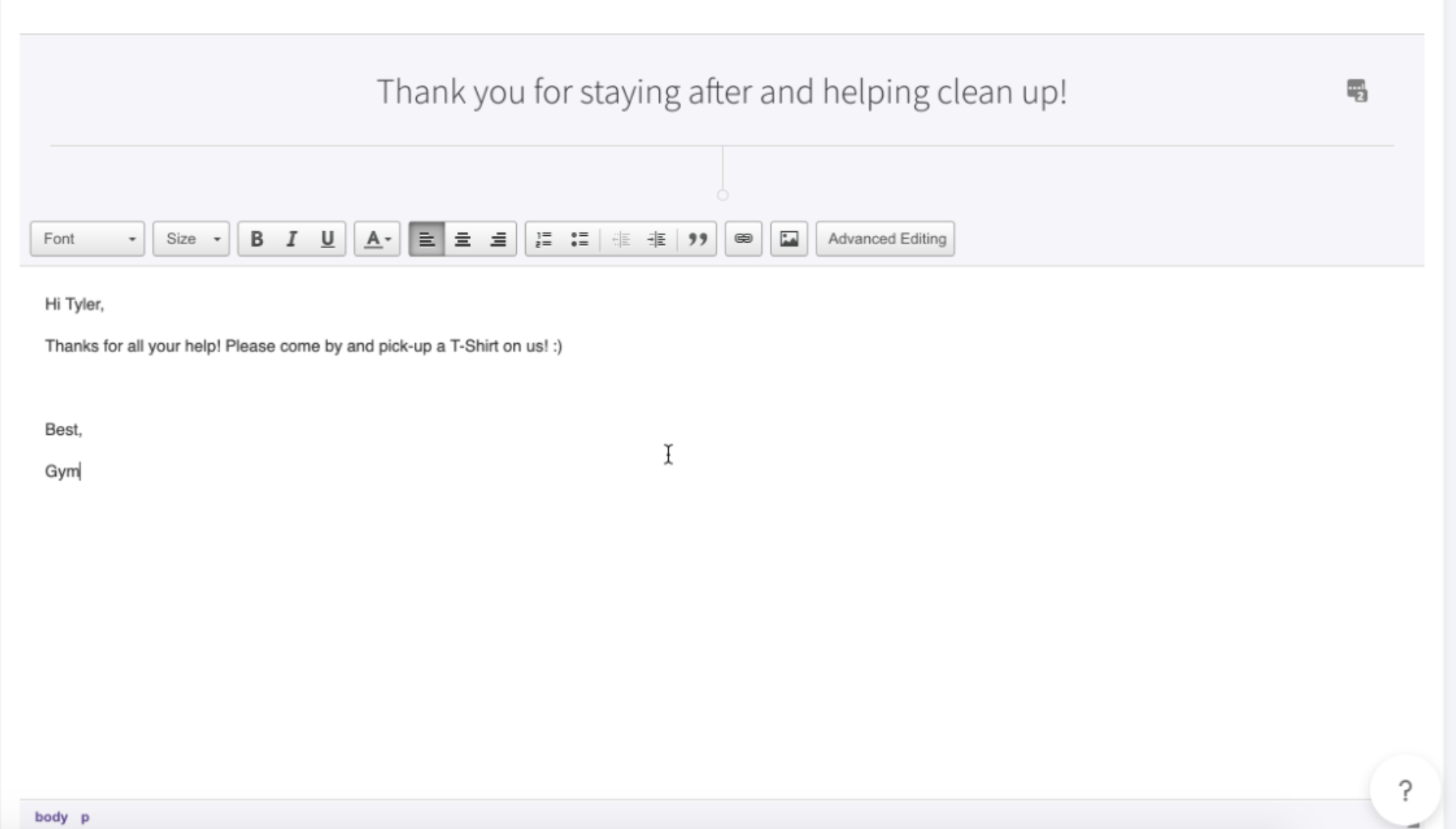 5. Customize your Email Signature--the signature for your email will depend on which 'Sender As' you selected. As part of Conversations, we've added a new Staff Signature template for you to customize via Communications > Settings > Email Signatures. Quickly access this new feature by clicking the 'Edit Signature Templates' button.
Note: Staff Signature templates can be customized by Location, and are applied to all of your Admins, Managers, Coaches, and Staff at that location. You can upload an image and use bootstrapped placeholders to customize your Staff Signature template, including: First Name, Last Name, Email, and Phone.  

Tip: Feel free to type your own signature in the body of the message. Just click the 'X' button on the top-right of the signature block to remove it.
6. Add an attachment to your email by clicking the 'Upload' button.


Click 'Preview' to:
S

end yourself a test email prior to sending the actual message

Type in emails to send a test email to and click send
Click 'BACK TO EDIT' to exit preview mode.
Click 'Schedule' to:
Schedule a date for the email to send
Change your mind? No worries, you can always edit or abort the email from being sent.
Click 'Send Now' to:
Instantly send your email
You can only send new emails after the 

recipients

, 

subject

, and 

message contents

have been defined.
Conversation Threads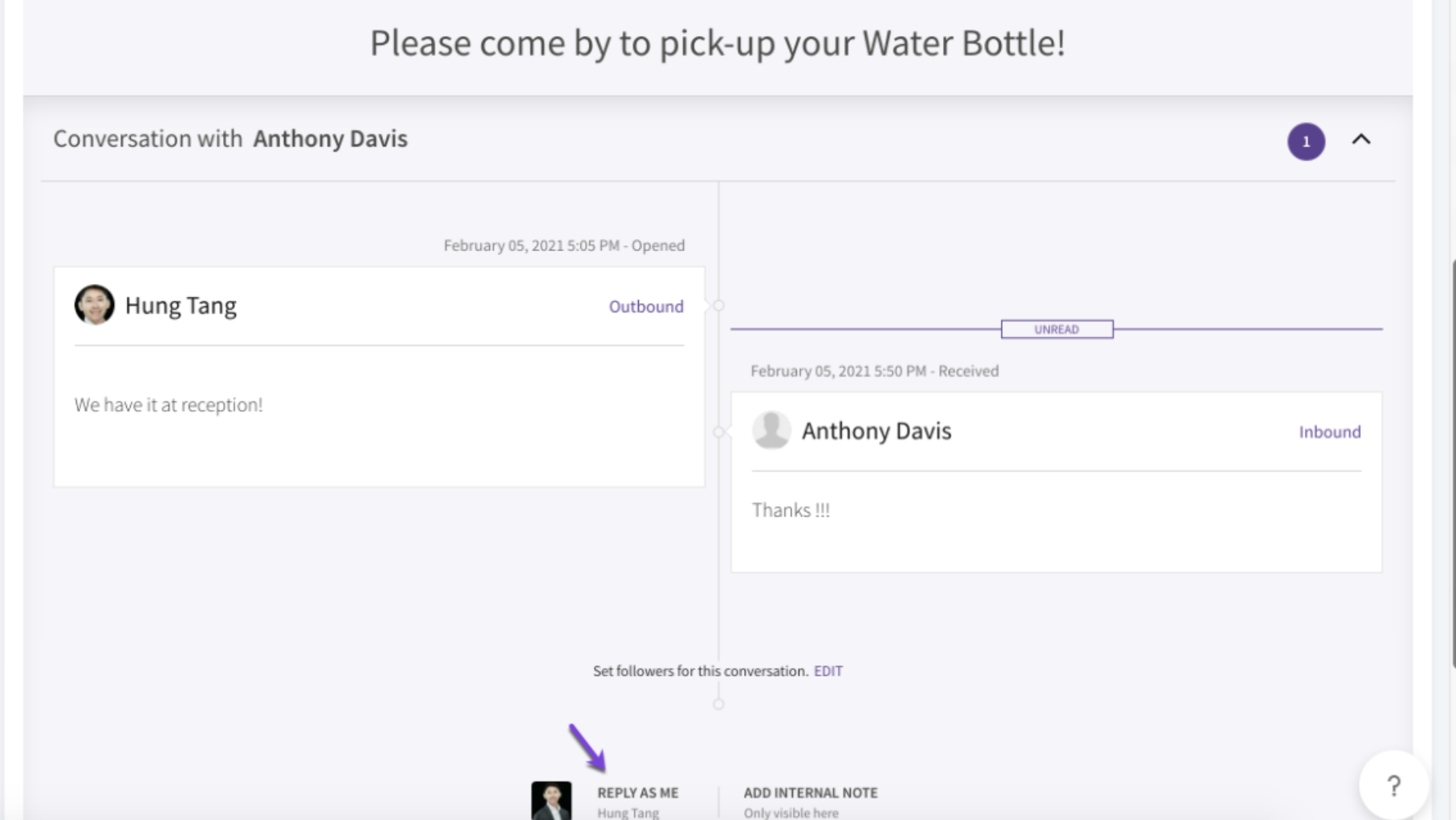 From the Conversations Mailbox, you can click into any email to view its details

Conversation Threads contain the individual conversations you have with each of your recipients. They can be expanded to reveal all outbound and inbound communication, and collapsed to hide them. Each thread shows a timeline of messages, where outbound messages are on the left, and inbound messages are on the right.
Click 'Reply as Me' to reply to your recipient's message. 
Click 'Add Internal Note' to add an internal note to the conversation for admins, managers, and selected recipients to see!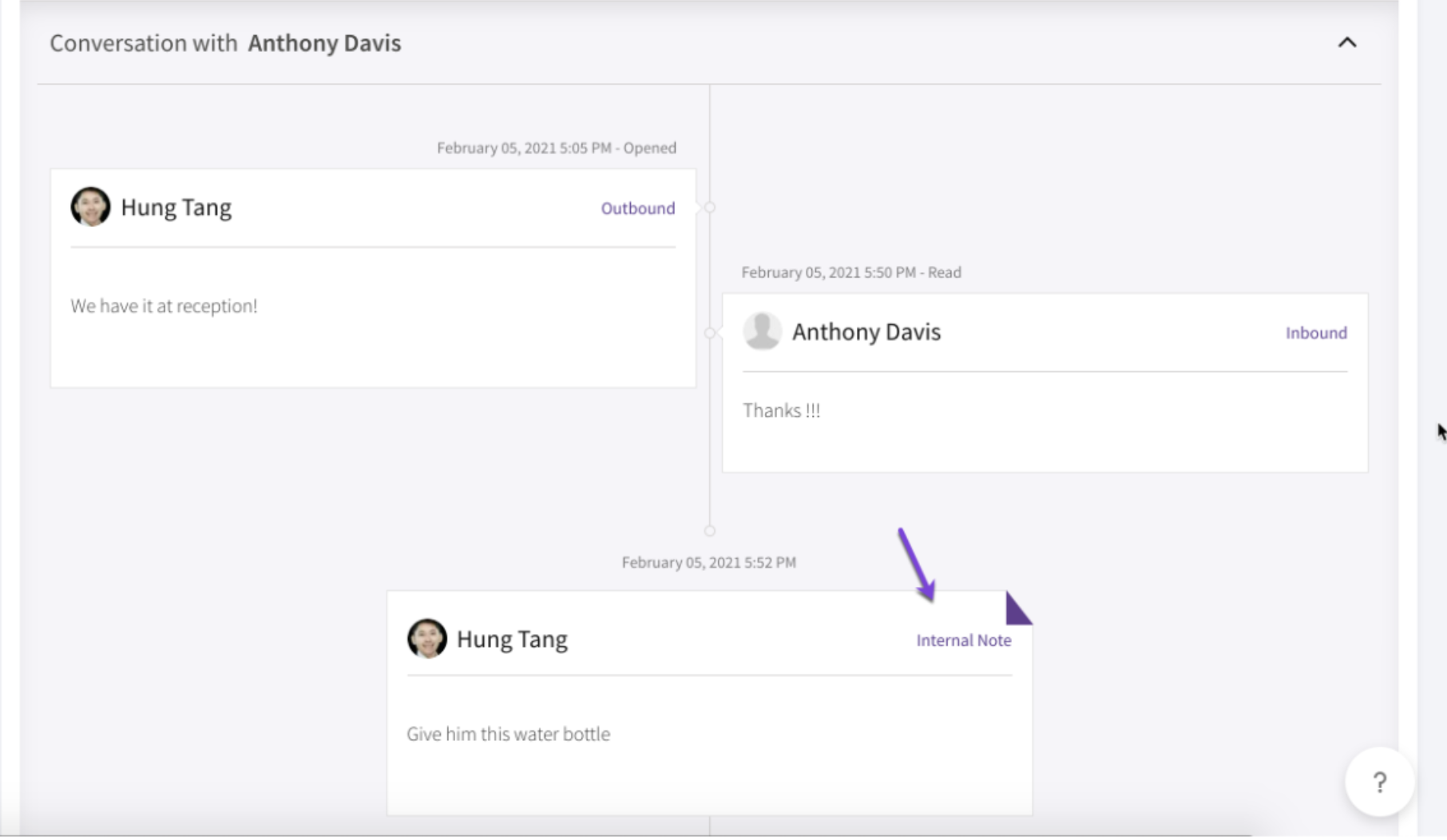 Note: You can also reply directly to Conversations from your own computer or device outside of the Wodify Conversations mailbox. Conversation Threads are updated in real-time as new replies are sent.
Email Filters

There are 7 different email filters you can use to easily identify the email you're looking for:
All

 

- selected by default, shows every email in your system
Unread

 

- filters to only emails with unread messages/threads
Sent

 

- filters to only emails with outbound messages that have already been sent
Scheduled

 

- filters to Conversations scheduled to be sent in the future
Drafts

 

- filters to any unsent emails that were saved
Search for email subject

 

-type into this text input box to search emails by subject
Show only messages I sent - toggle to see messages where you're the

 

original sender


Note: Emails that are in the process of being sent (i.e. with a Status of 'Sending') will show up in your 'Drafts' folder and cannot be opened. Once the status changes to sent, you can find and view their details in the 'Sent' and 'All' folders.
____________________
More Information:
TIP: Wodify Blueprint Course - Advanced Email Communications
If you need any additional assistance with Managing Conversations, feel free to reach out to us at support@wodify.com or via Priority Live Chat in your admin account (Promote only).