The Starter Package is $499 and includes the following equipment: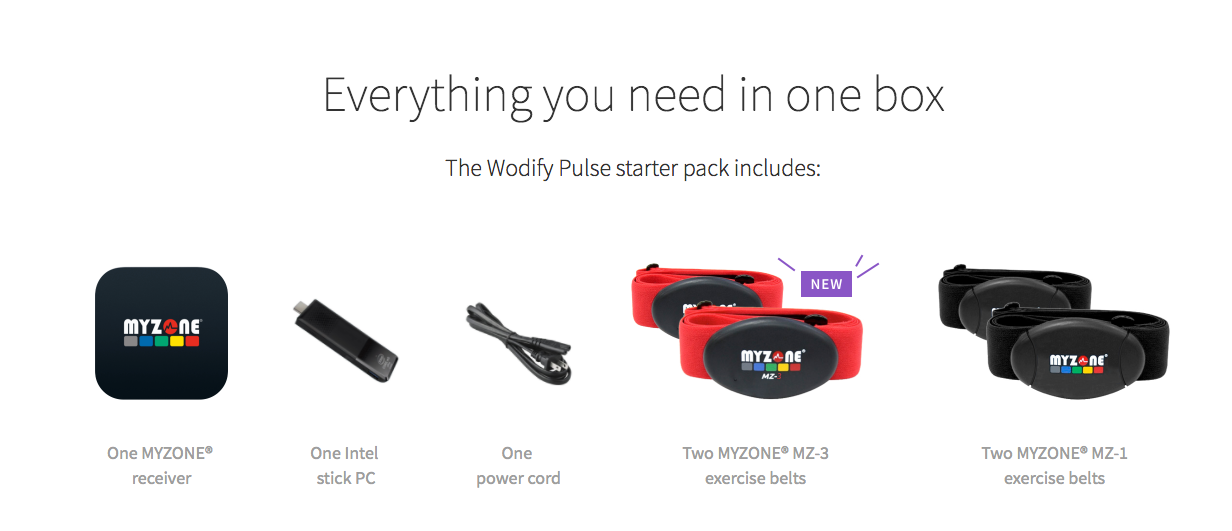 The Starter Package includes all of the hardware necessary to get your business up and running with Wodify Pulse. It includes four belts, two of each model:
MZ-3 $60 Wholesale Rate (suggested retail $149)
MZ-1 $30 Wholesale Rate (suggested retail $99)
What is the difference between MZ-3 and MZ-1?
MZ-3: An award-winning physical activity belt of the Myzone®product range. The MZ-3 allows you to view your physical activity data on your smartphone via Bluetooth or on-screen at a Myzone enabled business using ANT+ technology. The MZ-3 also allows users to store up to 16 hours of workout data. This means users can exercise outside a club or away from the MYZONE® app and the MZ-3 will continue to store workout data.
The MZ-3 also connects to 3rd party apps including the Myzone® app.
MZ-1: A featured product of Myzone® that delivers heart rate-based effort tracking. The MZ-1 can be used inside a facility and is ideal for Boutique and/or functional class/facility only operators.
This low-budget variant of the MZ-3 is specifically designed with the class goer in mind. The MZ-1 works inside a Myzone enabled club as well as with the MYZONE® app. The belt also talks to 3rd party apps and is supported with ANT+ technology. *This belt does not have the ability to store workout data, so if you are outside of the Receiver range (75 Yards), performance data will not be saved. The standard battery life is 3-6 months.