Before you are able to start charging drop-in clients on the Coachboard or Online Sales Portal, you will need to configure your Drop-in session template. This article will walk you through how you can set up your drop-in membership template, editing the attached automated emails and more!


In this article, we will cover:
Setting up Your Drop-in Membership Template
To configure your Drop-in Session: 
Go to

 

Wodify Admin > Classes > Memberships > Session Templates

On this list, click 

Drop-in
Session Details:


Brief Description:

 

Enter a brief description of your Drop-in which will be displayed in the online sales portal

Payment Methods: 

Enable Drop-In Payments: allows you to accept payment in person from a Drop-In
No Charge Available: Toggle this on if you want staff to waive the Drop-in fee for visitors

Fees: 

Tax: select a tax rate from the picklist
Non-Wodify Client Drop-in Fee: configure your standard drop-in fee
Wodify Client Drop-in Fee: You can also offer a specialized rate for clients who are current clients at another Wodify business - or keep these two rates the same.

Click 'Save '
How to Edit your Drop-in Automated Email Templates
Wodify provides two automated email templates that are triggered when a client signs up for a Drop-in on your Online Sales Portal. This is a great place to include special class instructions or directions to your facility. 
If you choose to customize these messages, be sure to not adjust the fields listed in closed brackets [], as these fields pull directly from your Wodify environment. 
To Edit Your Drop-in Email Templates:
Go to

 

Wodify Admin > Communication > Automated Emails > Classes
On this list, click

 

Drop-in 'Edit'
You'll see two automated emails here:

Initial Email

 

- Sent immediately after a client purchases a Drop-in session. 
Follow-Up: Attended Email

 

- Sent shortly after the session that the client attended.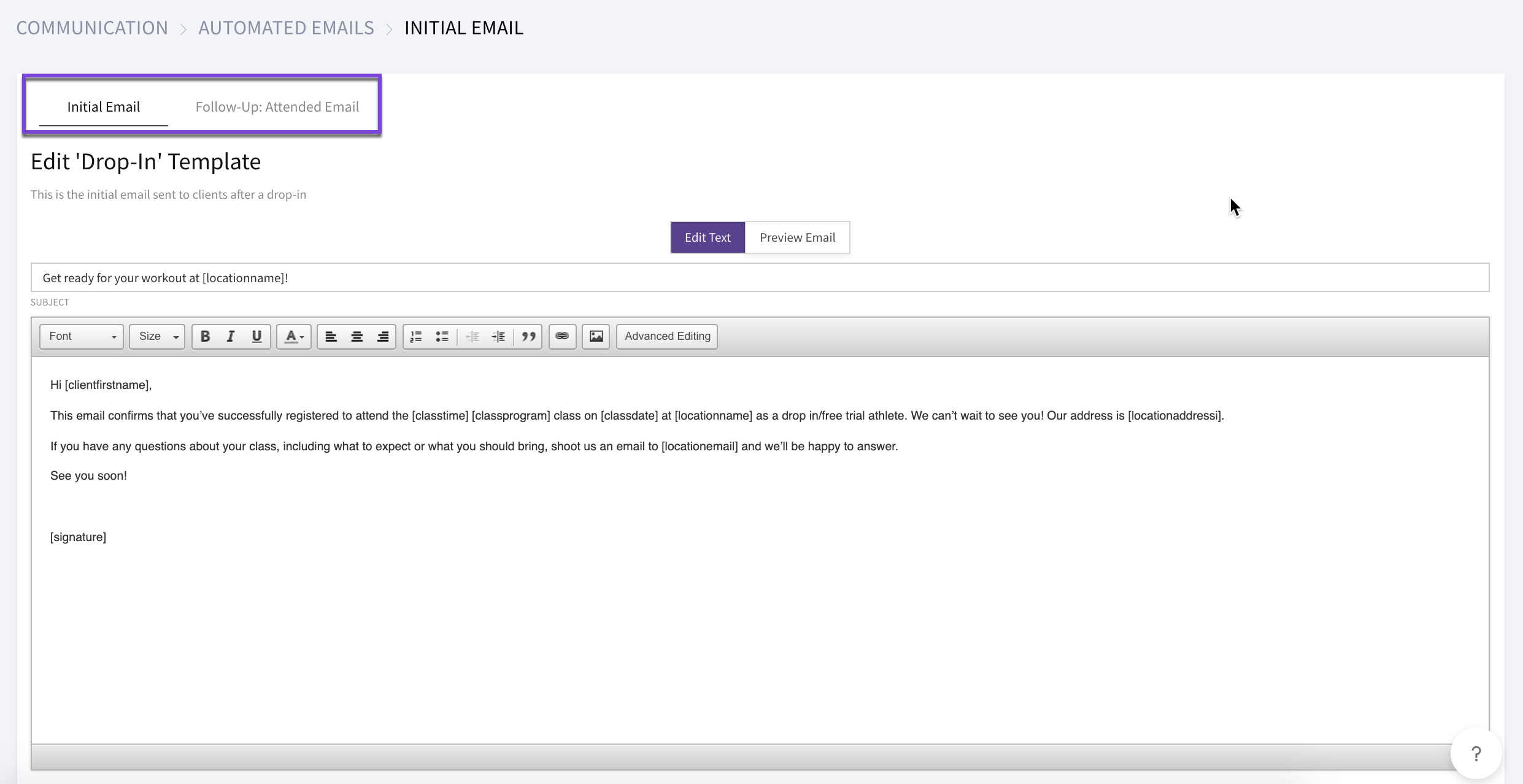 How to Enable Drop-in Reservations and Payments on your Online Sales Portal:
Setting your Drop-in live on your Online Sales Portal, will allow clients to view which classes are available, sign a waiver (if enabled), and checkout and pay all before entering the facility. 
To Enable Drop-in on your Online Sales Portal:
Go to 

Wodify Admin > Digital Presence > Sales Portal Settings
Check to enable Drop-in
Then, click Edit


Select the Programs Associated with Drop-In Availability
Select the Classes Available to Drop-In Reservations
Pay Later at the Business: (Optional) Allow Drop-ins to pay when they enter the facility

It is good to note that we do not recommend this option as they will be reserved for the class without payment information yet on file for their class booking.


Click 'Save'
____________________
More Information
Now that you've configured your Drop-in, check out these help article for the next steps:
Tip: Wodify Blueprint Course: Drop-ins and free trials

If you need any additional assistance with setting up your Drop-In, feel free to reach out to us at support@wodify.comor via Priority Live Chat in your admin account (Promote only).