This article will help you determine how to best configure your Workout calendar display (Workout > Calendar) to meet the needs of your business.
In this article, we will cover:
Changing Number of Weeks
You have the ability to set your Workout calendar to one, two, three, or four weeks into the future.

This can also be done from Workout > Settings > Calendar.

Changing Program and Component Types
You can customize your calendar to reflect any one of your programs with the first dropdown menu at the top: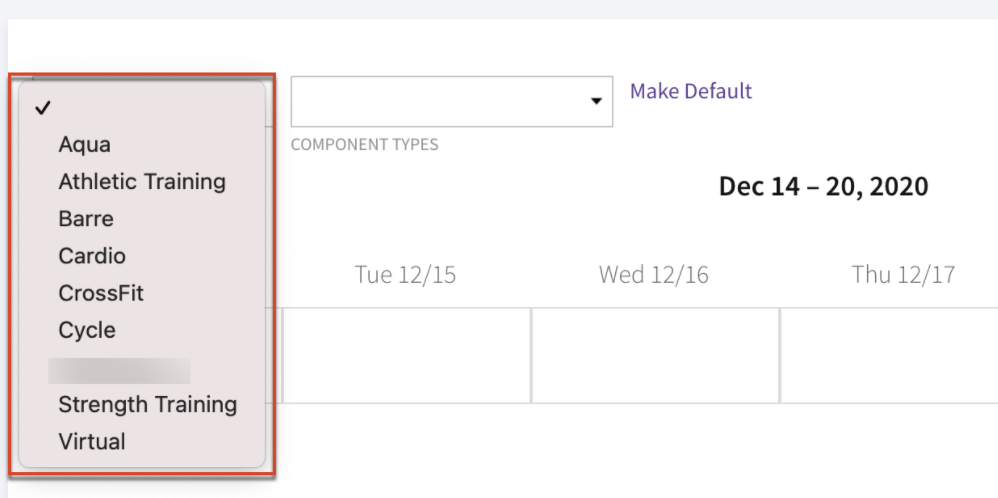 And/or you can customize the calendar to filter your weightlifting, metcon, warm-up, gymnastics, or weightlifting total components, with the second dropdown menu at the top:

Select Default View
You can customize the Workout Calendar view you see by default when you log in, using these steps:
Select a combination of weeks, programs, and components you want to see in your default view, using the Changing Program and Component Types steps above
Click Make Default next to the dropdown menus, to make this the calendar view that will appear when you open your Wodify Admin account.

Printing your Workouts
You can print your Workout Calendar view at any time by clicking the 'Print' button on the calendar.

Note: This will print the Calendar view that you are currently looking at, including the program and any components you've selected
Changing Component Colors
You can set the color block that appears next to each type of component on your Workout Calendar, to help you quickly identify the different components you're looking at. To change the colors of your components:
Navigate to Workout > Settings
Click into the Calendar tab at the top of the page
Scroll down to the Component Colors section
Click on the color dropdowns next to each component, and select the color you want
Click the Save button in the section

____________________
More Information:
TIP: Wodify Blueprint Course - Getting Started with Wodify Perform
If you need any additional assistance with Adjusting your Workout Calendar Settings, feel free to reach out to us at support@wodify.com or via Priority Live Chat in your admin account (Promote only).