There may be times when a client(s) requires that their membership is placed on hold for various reasons. This article will walk you through the types of holds Wodify has pre-built, how you can create your own hold type, and how you can place a hold on a clients membership quickly and easily!
In this article, we will cover:
Creating a Membership Hold Type
In Wodify there are four default hold reasons that are available when adding hold to a client's membership. These default Membership Hold Types are: 
Vacation
Injury
Illness
Financial
To create a new membership hold type:
Go to Wodify Admin > Classes > Settings
Click the Memberships tab > Click the Membership Hold Types tab
Click + New Type


Label: Enter the name of the new hold type
Click Save


Putting a Client's Membership on Hold
Admins and managers are able to utilize the memberships holds feature to complete this process whenever a client requests a membership hold.
To apply a hold to a membership:
Go to Wodify Core > People > Clients
Select the Client's Name
Under Memberships, click the Membership you wish to hold
Click Actions > Add Hold


Select:

Start Date
End Date
Hold Reason

Click Save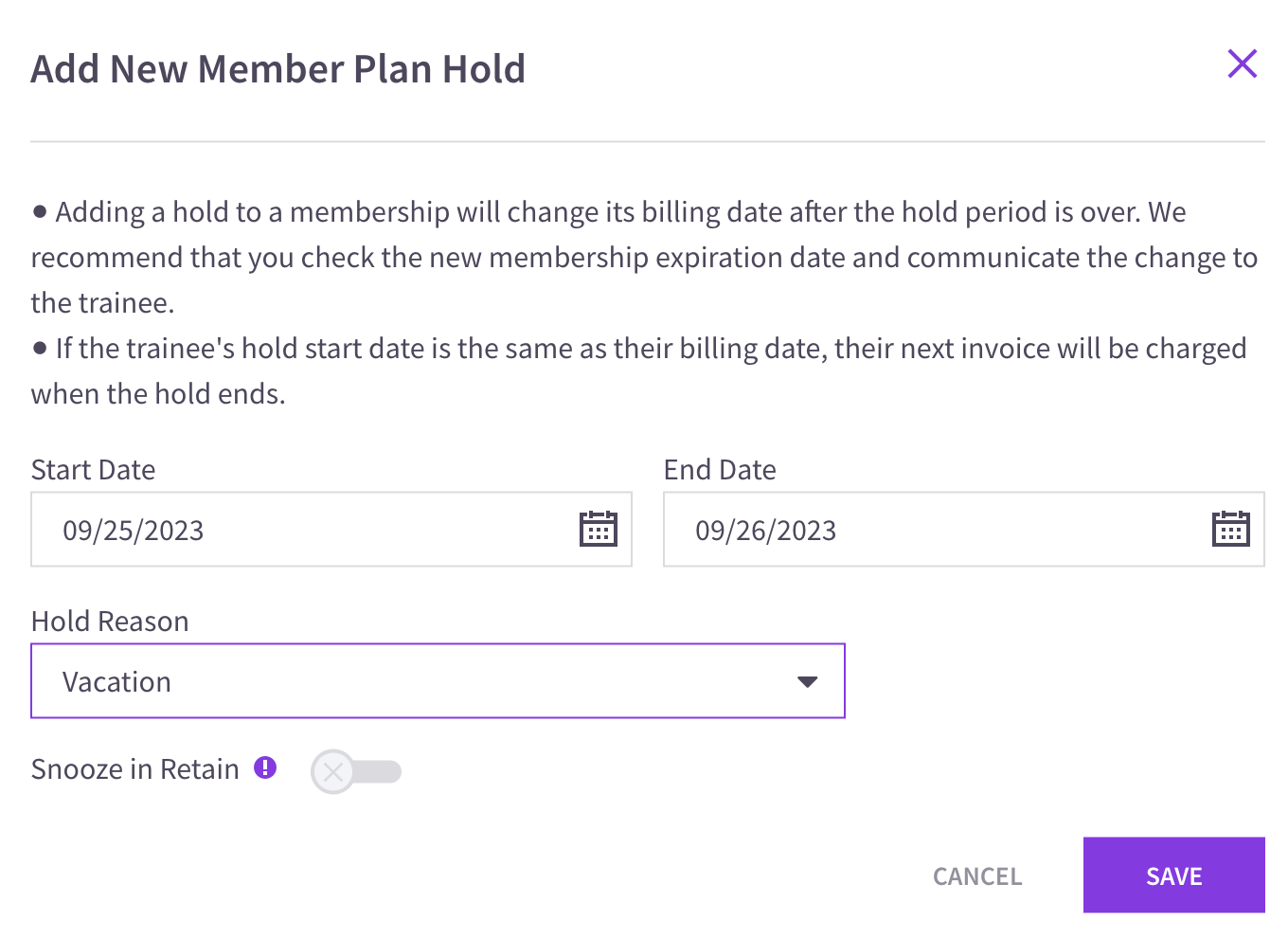 Note: Here are some things to keep in mind when you're applying a hold.
If the client's hold start date is the same as their billing date, the client will be charged and their next invoice due date will be pushed back to account for the time missed.

Holding a membership will never result in a pro-rated invoice. On the contrary, a hold will change the membership's billing date by extending it by the number of days in the hold period.
If your client is under a commitment term, that commitment term will be extended for the amount of the membership hold.

We recommend that you check the new due date for the membership invoices, after adding the hold and communicate the change to the client.

Invoices will not be created during the hold period. Future membership invoice due dates will adjust to the hold end date.
The client will still be able to reserve classes that take place after their hold ends, as long as your reservation window is sufficiently large enough.  
If a future membership has been generated, you are unable to add a membership hold to the original membership. 
Adjusting or Removing an Active Membership Hold
The hold features provide you with the flexibility to edit an existing hold.
To Adjust an active Membership Hold:
Go to Wodify Core > People > Clients
Select the Client's Name
Under the Membership Holds section, click the Pencil Icon to make any changes
Click Save

Note: To remove a current hold, please set the 'End Date' to the current date.
To remove a future hold:
Go to Wodify Core > People > Clients
Select the Client's Name
Under the Membership Holds section, click the Trash Icon

TIP!: If you do not want a client to be billed for a specific month the Start Date of their hold will need to start prior to the invoice due date.
For example, if a client pays on the 15th of every month but they wish to place their membership on hold for a month, the Start Date of the hold must start on the 14th. If the hold starts on the 15th, they will be billed and then the hold will begin and their next invoices will be adjusted to reflect that payment.
____________________
More Information:
Tip: Wodify Blueprint Course: Create your Memberships
If you need any additional assistance with Membership Holds, feel free to reach out to us at support@wodify.comor via Priority Live Chat in your admin account (Grow and Promote only).