The following article explains FinCEN requirements and compliance and applies to US-based Wodify Payments customers whose Wodify Payments account was created after May 11, 2018.
In this article, we will cover:
FinCEN Overview
The Financial Crimes Enforcement Network is a bureau of the United States Department of the Treasury that collects and analyzes information about financial transactions in order to combat domestic and international money laundering, terrorist financing, and other financial crimes.
To comply with the new CDD Rule and other KYC requirements enforced by FinCEN, Stripe made several updates to their product. Many of these requirements relate to gathering information needed to verify companies and individuals. Since Wodify Payments is powered by Stripe, you will now be required to enter additional information on your Wodify Payments account.
FinCEN Requirements
The information that needs to be collected from your accounts depends on whether you are in business as an individual or a company.
Individual Accounts:
Legal Name
Email, DOB, Address, Phone Number
Last four digits of your SSN
Business Website or product description
Company Accounts:
Legal Business Name
Employer Identification Number
Business Address, Phone Number, and Website (or product description)
Business representative

Must have at least 25% ownership of the company and have an executive role
Legal Name, Email, Title, DOB, Address, Phone Number, Last four digits of SSN
Note: If you have formed a business entity with the government (LLC, LLP, Corporation, etc.,) then your account type should be Company. If you are not operating as a business entity with the government, your account type should be Individual.
FinCEN Compliance
To edit your Wodify Payments account to make sure it is FinCEN compliant:
Go to Financial > Settings > Wodify Payments Configuration
Click on the link - Click here to change any other merchant account info
Follow the instructions when prompted by Stripe to make edits to your Wodify Payments account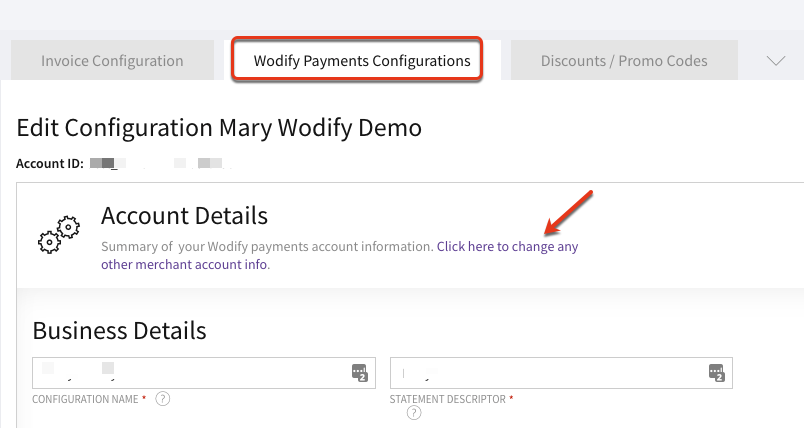 Note: If you have multiple Wodify Payments Configurations, you will need to repeat these steps for each configuration.
If you need any additional assistance with FinCEN Requirements and Compliance, feel free to reach out to us at support@wodify.com or via Priority Live Chat in your admin account (Promote only).