Workouts are the heart of your client's experience. This article will help you understand how quickly it is to set up your Workout templates and basic details.
In this article, we will cover:
Note: Only Admins and Coaches will be able to create your Workouts. Clients will not be able to see your workouts until your preset publish time.
Adding a Workouts Template
Before you can add details to your workout you will need to add a workout template. To do so you can navigate to:
Within Wodify Core, head to Workout > List > +New Workout




Within Wodify Core, head to Workout > Calendar > +New Workout OR click on the Green + within the specific date

Entering Basic Details
Once you have added your workout template, you can
Edit your basic details including workout name, date, and program
Click +Add Comment to add a comment about your workout

Please note: your clients will be able to see this comment


(Optionally) Add tags to workouts to organize them and make them easier to find in the future.
Add internal notes in our Notes textbox to help inform admins, managers, and coaches about workout specifics.

Please note that your clients will not be able to see this internal note.
Any workout containing an internal note will be tagged with a note icon and you will be able to view the note by clicking into the workout and navigating to the Notes tab





Click Save
Setup Publishing Details
Once you've entered the basic details of your workout, you will then need to set up when you want your workout to be published.
You will need to select a date to publish your workout in Wodify (only admins, managers, and coaches can view it)
For your clients to see the workout and for the workout to be posted on your blog, website, or anywhere you have your workouts externally linked, you will also need to toggle on 'Publish workout externally' and select a date to externally publish
You can toggle on 'Include a link to our public whiteboard' to link to your public whiteboard on your website
You can toggle on 'Hide from members without program' to ensure that clients who don't have access to your workout will not be able to see it.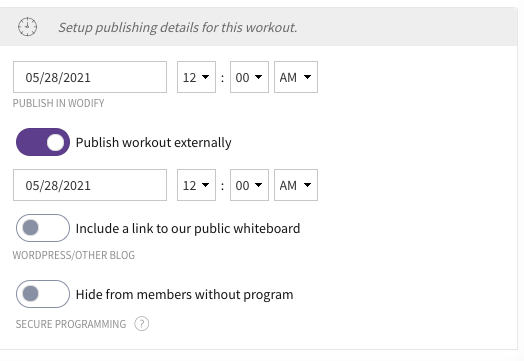 Once you have finalized the creation of your workout, you can click the purple save button, and begin to edit your workout - Building and Editing Workouts
____________________
More Information:
TIP: Wodify Blueprint Course - Getting Started with Wodify Perform
If you need any additional assistance with Creating a Workout, feel free to reach out to us at support@wodify.com or via Priority Live Chat in your admin account (Promote only).