Segments are lists of people that match a set of Athlete, Lead, and/or Demographic rules that you define. It empowers your gym to create customized groups of people that can be used as part of thoughtful and targeted communication plans.

Creating Segments is quick and easy. In the process, you will work through 3 tabs to customize your Segment: Segment Settings (Name, Description, Update Settings), Rules Engine (your defined criteria), and Included People (folks that match all of your added rules criteria).


Start a New Segment
You have to start somewhere...
Go to

People > Segments

Click on "+ NEW SEGMENT" on the top right of your screen

Segment Settings
Define the basic details of your new Segment...
Name your Segment (required)

Give your new Segment a description (optional)

Choose an update setting for your Segment: "Auto Update" or "Lock"

Note: If you choose Auto Update, the people included in your Segment will refresh every time you click into it and also every time you use it. If you choose to Lock your Segment the list of people will be fixed and will only update when the Segment is saved. 
 
Rules Engine
Now the fun part, start adding one or more rules to define your Segment!
Click on the 'Rules Engine' sub-tab

Begin by adding your first "People" rule, who you want to start with (All, Just Leads, or Just Athletes)


Interact with the list on the left to pick and add your specific Segment rules.


Note: Lead Specific rules are only available if you selected "All" or "Just Leads" as your People rule. Athlete Specific rules are only available if you selected "All" or "Just Athletes". Demographic rules are always available regardless of your first "People" rule. 

Included People
Added your Segment's rules? Great! Now see the list of people who match your rules.
Click on the 'Included People' sub-tab
Find specific people in Segment using the list's search box
Manually remove specific people from the Segment by clicking the "Exclude" action
People manually excluded will be shown in a new list called "Excluded People"
You can move people back to the "Included People" list by clicking the "Restore" action
Note: There is a counter associated with each Segment that gives you an indication of the number of people that meet that Segment's Rules Engine criteria. The word about in the "about # people" label is an emphasis on the fact that the Included People count for each Segment may change when updated or used.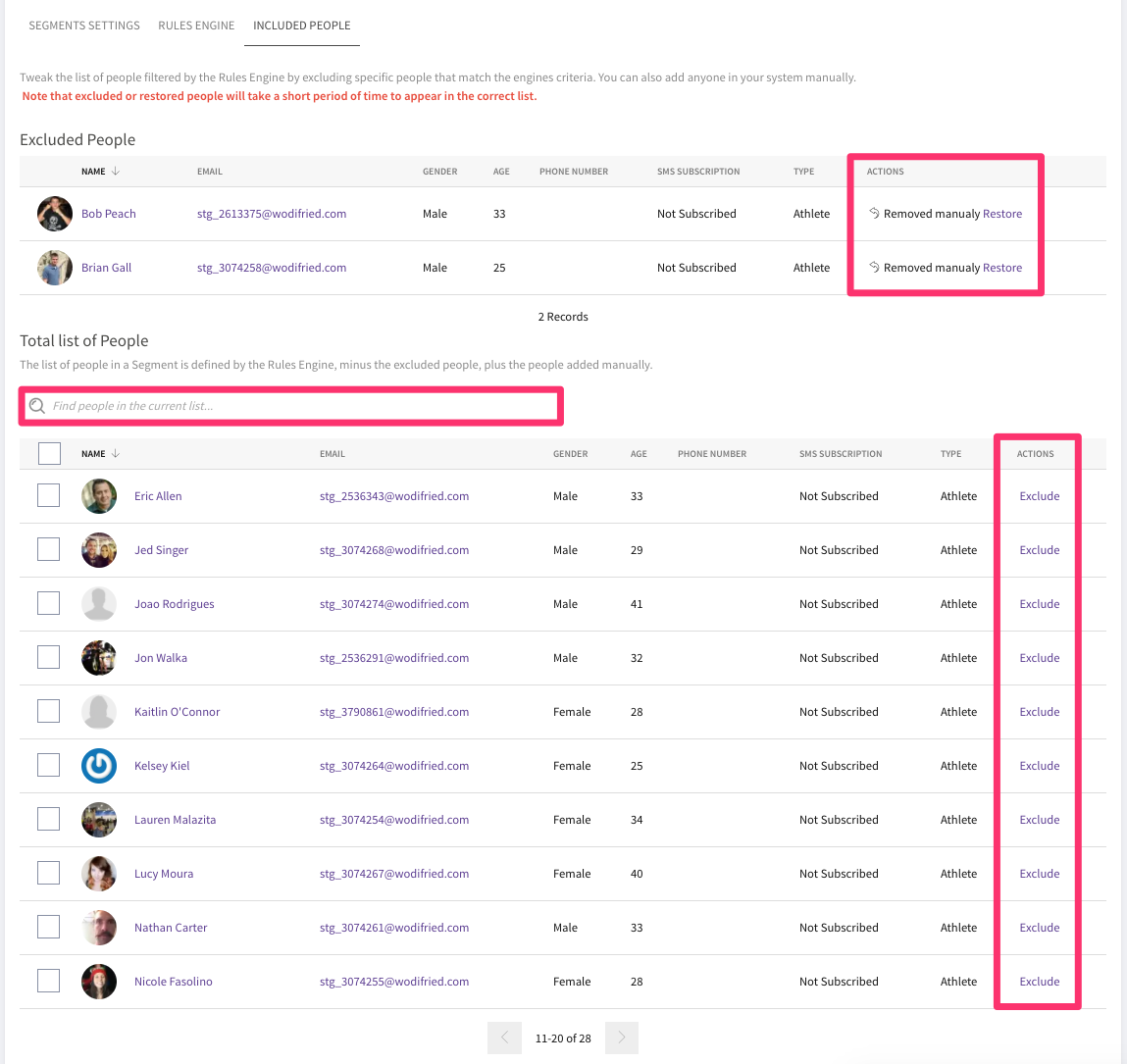 Great, now how do I use Segments I've created?
Segments are currently integrated with Wodify's new Conversations feature so you can create custom distribution lists to deliver targeted communication. For more information on creating Conversations, see this help article: How Do I Create New Emails via Conversations?