Segments allow you to target Clients and Leads by location, demographics, membership info and activity by creating lists set up by specific rules. This allows you to easily track and communicate with your own personalized groups of clients. This article will walk you through how you can build a segment and add/remove clients!
In this article, we'll cover:
Building a segment
To create your new segment:
Go to People > Segments

You can also review your existing segments on this page

Click the + Segment button to get started

Note: If you're creating a new Segment that is very similar to an existing Segment, and only needs a few small adjustments, you can click on the Duplicate Segments button instead. This will build a new version of the same Segment, that you can go in and edit without affecting the original Segment.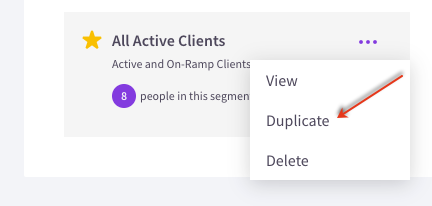 Once you've opened a new Segment, your next step is to set the basic details of this segment in Create a Segment then Save Segment.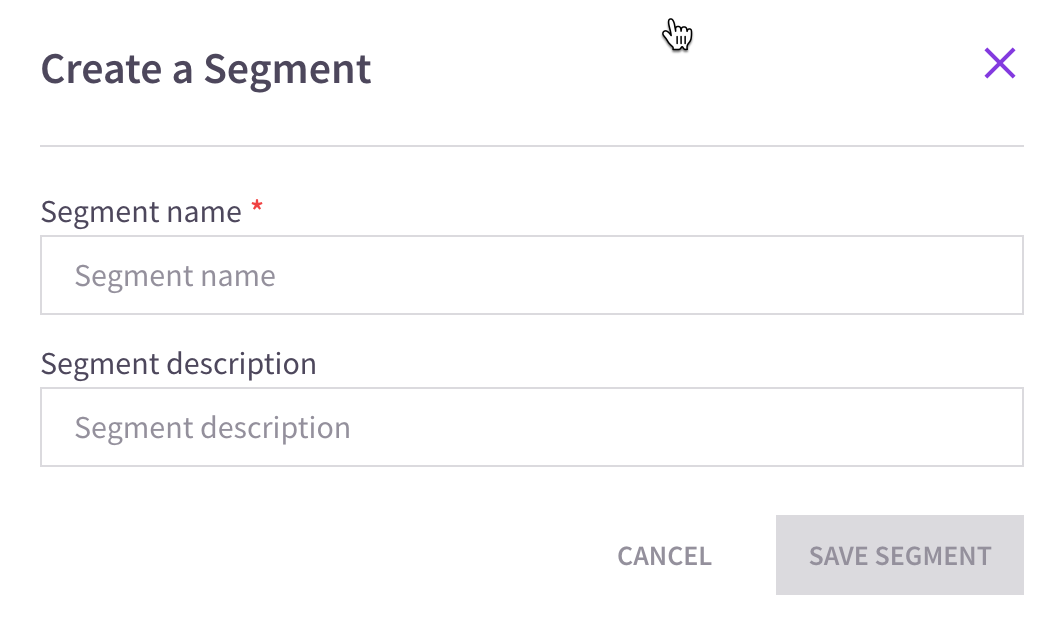 Segment Name
Segment Description (optional)
Note: You must set a name for the Segment first. You will not be able to adjust any other settings in your Segment until you enter something into the Segment Name field.
Next, start setting your rules for clients that can be included in the Segment, in the Rules Engine tab.
By default, the first rule you have to set is whether this Segment will include all clients in your environment (All Clients and Leads), only Leads (All Leads), or only Clients (All Clients)
Click +Add Rule once you've selected which people should be included



This will open up the menu down below, where you can start setting additional rules. Click the down arrow next to each category to open up its rules options

Lead Specific - Includes Lead Status, Created On date, Created From source, and more
Client Specific - Includes Location, Membership Status, Role, and more
Other Client and Lead - Includes Age, Gender, Tags, and SMS Subscribers

Each rule you select from this menu will require some additional info to define the rule

For example; if you choose Other Client and Lead Filters > Age, you will have the option to include or exclude clients older than, younger than, or between a certain age range

Segments should autosave any time you add a new rule, so even if you navigate away from this page, the Segment should still be saved as you left it under People > Segments.
You can change that setting by toggling Update Automatically off
Finally, you'll want to review the list of Included People in your Segment, which we'll cover below.
Editing Clients in a Segment
Once you've built a new Segment, or in any existing Segment under People > Segments, you can manually adjust the clients that are included in the Segment from the Included People tab.
To remove a clients from the Segment:
Find the client on the list of Included People

You can use the search bar to find clients on this list

Click Exclude in the Actions column next to their name 
Once you've started excluding clients from a Segment, they should show up in a separate Excluded People list under the Included People tab, just above the list of included clients.
To add a new client to this Segment, who's not currently on the Included People list:
Find the client's name in the Exclude Tab
Click Search their name then click Include

Note: Your Included People list should autosave as you add or remove clients, but please note that it may take a short time for the changes in Included People to be reflected (typically only a minute or two)
You can also export the list of included or excluded clients from the Included People tab in spreadsheet form:
Checking the box next to any clients you want to export
Click the Three Dots that appear, and select Export
Once your Segments are ready, you can easily communicate with them by adding them to any Conversations Email.
If you need any additional assistance with building or editing Segments, feel free to reach out to our team at support@wodify.com or via Priority Live Chat in your admin account (Promote only).