With the Wodify Online Sales Portal, Free Trials are able to make a reservation for their Free Trial session(s) and submit a digital waiver before they even step foot in the building.
In this article, we will cover:

Setting up Your Free Trial Membership Template
Admins and Managers can configure the number of sessions a Free Trial client can attend. You also choose whether or not these sessions expire after a certain period of time.

To configure your Free Trial sessions:

Go to Wodify Admin > Classes > Memberships > Session Templates
On this list, click Free Trial


Session Details:

Session Name: Free Trial (auto-filled)
Number of Sessions: choose how many sessions a free trial can attend
Expiration: select whether or not you would like these sessions to expire after the first class or from the purchase date.
Brief Description: Enter a brief description of your Free Trial class which will be displayed in the online sales portal

Click Save
How to Edit your Free Trial Automated Email Templates
Wodify provides four automated email templates that are triggered when a client signs up for a Free Trial on your Online Sales Portal. Since this may be the first point of contact for a new client, feel free to customize these templates to fit your brand!
If you choose to customize these messages, be sure to not adjust the fields listed in closed brackets [], as these fields pull directly from your Wodify environment.
To Edit Your Free Trial Email Templates:
Go to Wodify Admin > Communication > Automated Emails > Classes
On this list, click Free Trial 'Edit'
You'll see four email templates here:

Initial Email - Sent immediately after a prospective client purchases a Free Trial session.
Follow-Up: Attended Email - Sent shortly after the session that the prospective client attended.
Follow-Up: No Show Email - Sent shortly after the session that the prospective client reserved a spot, but did not show up.
Free Trial Expired Email - Sent once the free trial expires (if you have enabled an expiration date).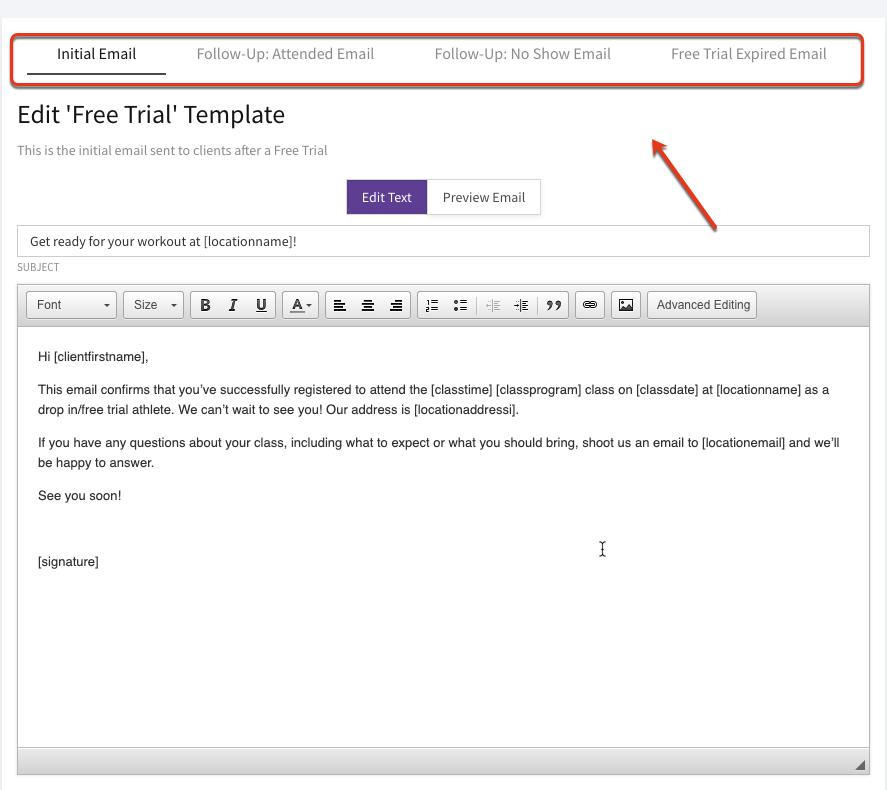 NOTE: Once a Free Trial fills out the waiver from the online membership sales portal their information will be captured and a lead profile will automatically be created for this client.
____________________
More Information
Now that you've configured your free trial, check out these help article for the next steps:
Tip: Wodify Blueprint Course: Drop-ins and free trials
If you need any additional assistance with your Free Trial Membership Template, feel free to reach out to us at support@wodify.com or via Priority Live Chat in your admin account (Promote only).