Wodify's integration with QuickBooks Desktop & Online allows you to map your own chart of accounts that will track your sales, sales tax, processing fees, and cost of goods sold.
In this article, we will cover:
Configuring which Accounts Appear in QuickBooks
By default, Wodify automatically populates each account name for you. However, you have the ability to customize the chart of accounts.
No matter which integration you are using (Online or Desktop), here's how you can configure how you want the accounts to appear QuickBooks:
From Wodify Admin, go to Financial > Settings
Select Integrations
Select Edit next to

QuickBooks

Click into any default name, and customize it with your preferred account name


Click Save
Note: Are you a multi-location business in need of separate account names for each of your locations? Select 'Overwrite' on the right-hand side of the integration screen to customize account names for a specific location.
Note: When replacing the default account names with yours, the Account Types in your QuickBooks must match those in Wodify. Please be sure to have the following QuickBooks Account Types set up on your QuickBooks account.
| | |
| --- | --- |
| Default Chart of Account | Quickbooks Account Type |
| Wodify Bank | Bank |
| Wodify Sales Tax | Other Current Liability |
| "All Revenue Categories" | Income |
| Wodify Fees: sub-accounts | Cost of Good Sold |
Mapping Revenue Categories
Before exporting/syncing, you can also choose how you want to map each revenue category on your accounting exports or even add a new revenue category. By default, we'll use the same label names that are already bootstrapped values in Wodify, like Membership Sales, Store Credit, etc.
Here's how you can map a Wodify Core revenue category on the exports:
Go to Financial > Settings > Revenue Categories
Click on a label name, like 'Drop-in'
OR Select '+ New Revenue Category' to create a custom category like 'Unlimited Membership'
Enter your Accounting Chart Account
Click Save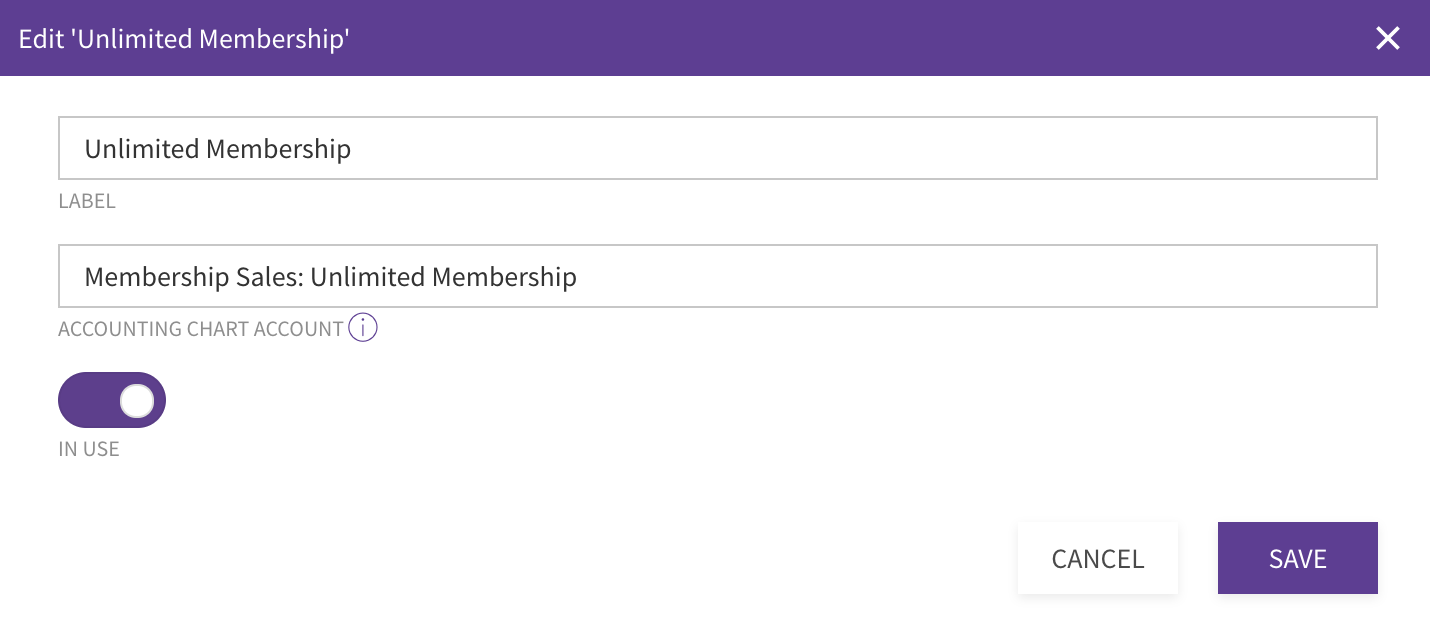 For Quickbooks Online users: Your next automatic sync will reflect any changes.
For Quickbooks Desktop users: Now you're ready to export a paid payout from Wodify Payments Payouts and import the IIF file into QuickBooks Desktop!



Tip: A colon (:) in the account name will create a sub-account on the export file. For example, 'Wodify: Fees' will have a sub-account. To remove/add a sub-account, simply remove/add a colon.

If you need any additional assistance with Mapping the Chart of Accounts for QuickBooks, feel free to reach out to us at support@wodify.com or via Priority Live Chat in your admin account (Promote only).