Here's how to integrate Wodify Online Sales Portal with Facebook Pixels:

1. Create your Facebook Pixel (if you don't have one already set up)
Copy the Pixel ID - you will need to paste this into your Wodify Core admin

2. Enter the Pixel ID into Wodify to automatically add your tracking pixel to your Online Sales Portal. Here's how:
Login to Wodify admin
Head to Gym > Sales Portal
Select 'Enable' Facebook Pixel
Enter your unique Pixel ID > SAVE

The following steps are highly recommended, but not required.
Validate your Facebook Pixel is working correctly on your Sales Portal using the Pixel helper Chrome extension.
Install your Facebook Pixel on your website. Without your pixel installed on your website, you won't be able to track any of your site traffic for marketing purposes.
Create Custom Audiences to serve your Facebook ads to.

The criteria to create a custom audience for your Online Sales Portal that tracks when some visited your OSP but did NOT make a purchase:

People who visited specific web pages in the past 30 days


Contains: /OnlineSalesPortal
Doesn't contain: /ThankYou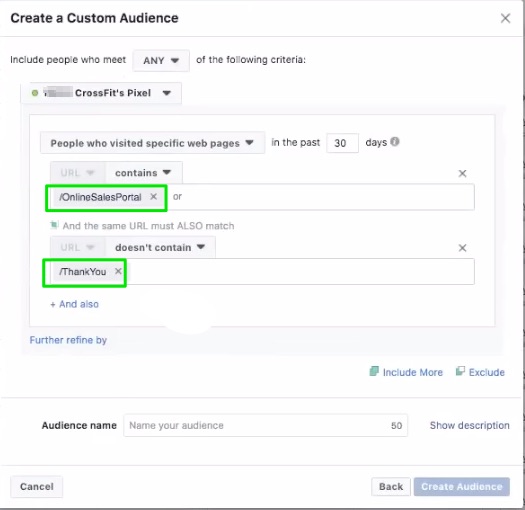 TIP:  Use the URL below to create 'complete purchase' custom conversions!
Conversion

URL contains

Purchased a membership plan

/ThankYouPlan

Purchased a session membership or

personal services

/ThankYouPlan

Purchased a Drop-In or Free Trial Session

/ThankYou
Custom conversions can show you exactly how many memberships, drop-ins, or free trials are being generated from your Facebook ad campaigns.
To better understand the impact that Facebook advertising can have on your gym, check out the video below and see how customer Double Barrel Fitness, uses Facebook advertising to grow their gym!

With your Facebook Pixel installed you will be able to measure the effectiveness of ad campaigns and create retargeting ads to people who have visited your online sales portal. This information will allow you to make smarter, more informed marketing decisions and spend your money toward ads that are going to bring more business to your gym.
For more resources on how to leverage Facebook Ads with your Online Sales Portal, check out some helpful articles here:
Beginner's guide to creating ads
Visit Facebook Blueprint for even more information on how to maximize the effectiveness of your Facebook ads.