The first step in using Appointments is to create a service. With our handy setup wizard, you'll be guided step by step through each component of building a service.
Head to Appointments  > Services > New Service 
1. Basic Information
After choosing a name & description for your service, you can set a limit for the number of people who can attend, how long appointments for this service can be, and configure your late cancelation & no-show policies.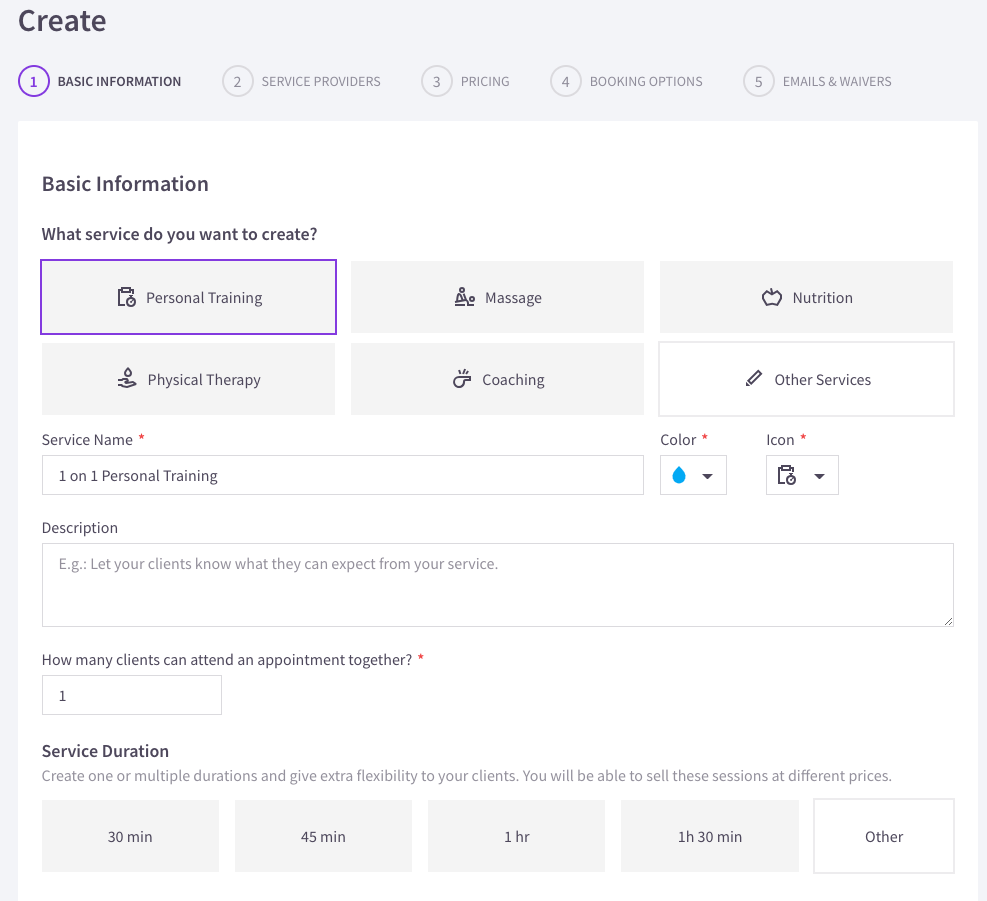 Quick Tips: 
Select multiple durations for a service to easily allow different booking options and manage availability (note: we will automatically create different membership templates for each duration)

You can set up default late cancelation and no show policies on the

Appointments > Settings

tab to quickly assign your settings!

The service options at the top of the page will auto-populate the "service name" and "icon" fields, but will not affect any other default setting.
2. Service Providers
On the next step, 'Service Providers' tab, you'll choose which coaches & admins will be available to book appointments with for this service.  
In order to be a service provider, the individual must have

coach, admin, or manager permissions

in your Wodify account.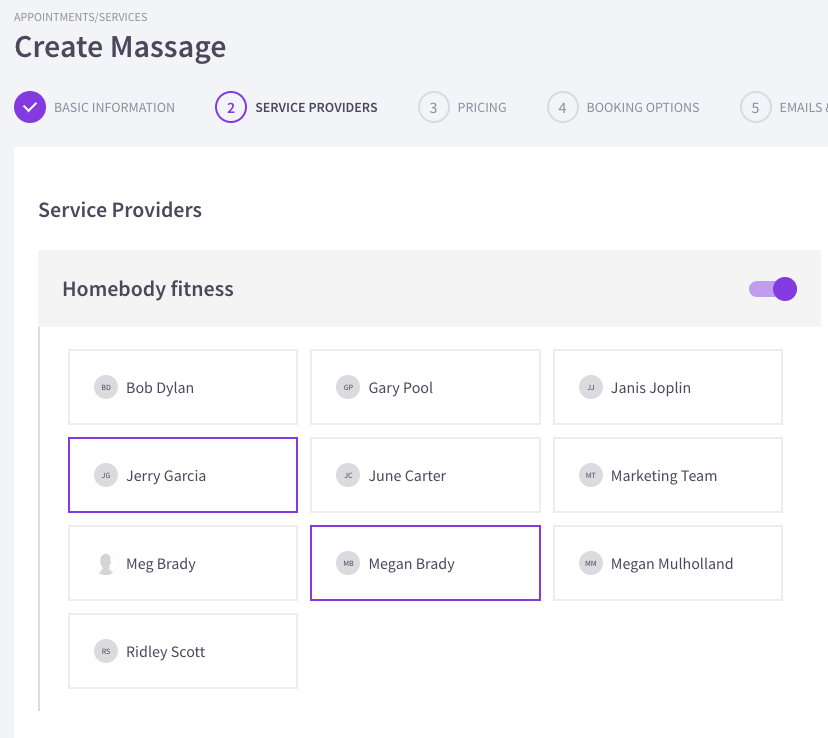 3. Pricing
Now that you have the basics set up, it's time to decide how much you are going to charge for the service!
Simply enter the amount you want to charge for each appointment duration. Then choose a revenue category, which will help you evaluate the success of your different services in reports.
Then, choose whether or not you want people to be able to buy this service through your online sales portal.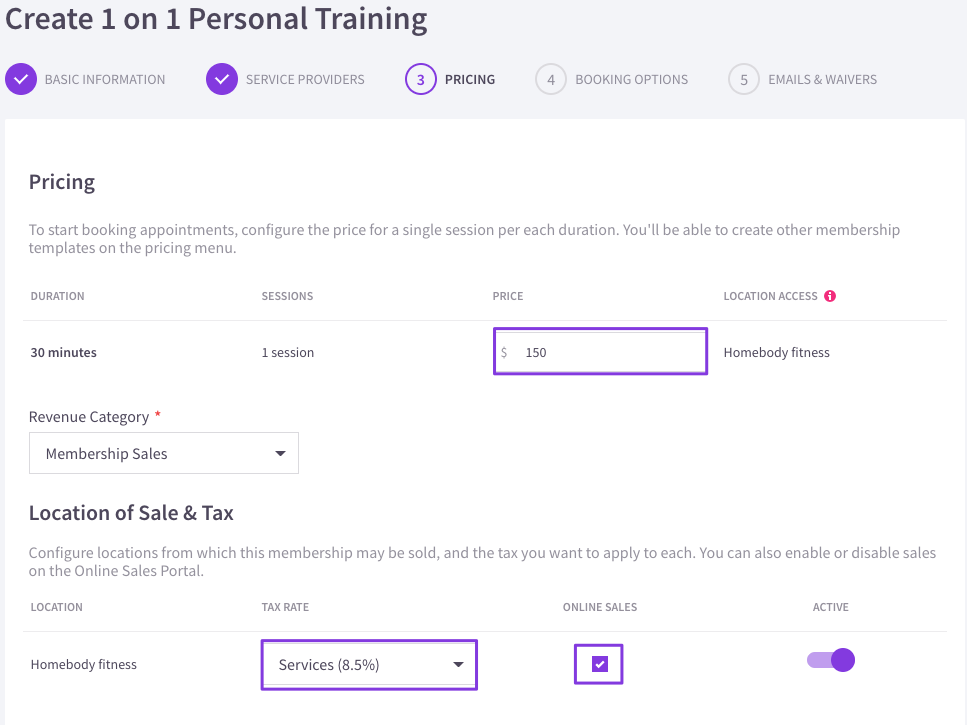 Quick Tips:
When creating a service, a single session membership template will automatically be generated

for each duration

. You can always edit the prices or create membership templates with more than one session from the Appointments > Pricing menu.

If you want clients to be able to buy memberships themselves, you can enable the service to be sold on the Online Sales Portal by checking the box under "Online Sales".
4. Booking Options
The next section is where you will decide how far in advance (and last-minute) clients can book appointments and what minutes appointments can start.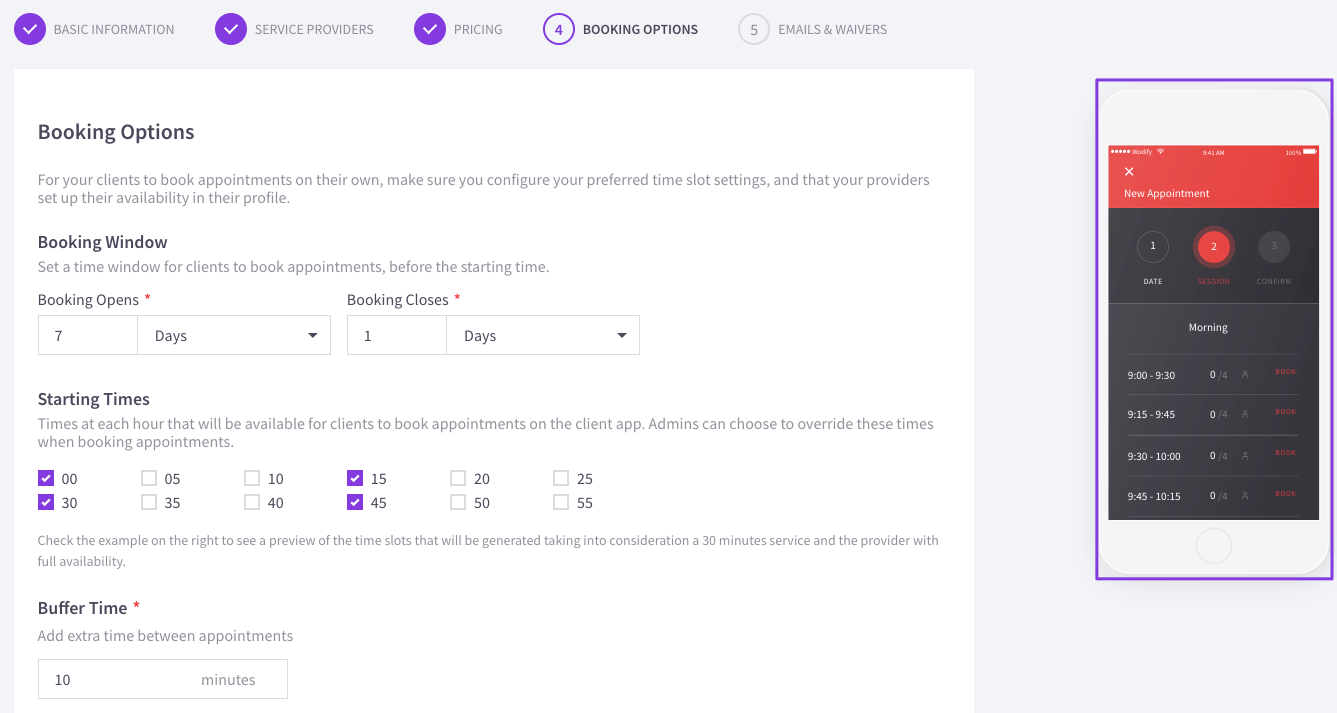 NOTE: these settings only apply to clients booking appointments from the athlete app.
Quick Tips:
The right side of the screen will show you a preview of what a client will see in their Wodify app when booking a new appointment. (this preview will

always

use an example of a 30 minute appointment)

Providers will still need to set availability in order for clients to book on their own (more on setting availability in this section).
You can always go back and edit services after they are created!

5. Emails & Waivers
The last step is assigning any waivers you need clients to complete and customizing the email notifications (this can be done in Communications>Settings> *Automated Emails* > Appointments).
Next: How do I set a provider's availability with Appointments?