How do I create a new coach?
To set up a new coach, please follow these steps:
---
Create the Coach's Profile
First, the coach needs a profile in your Wodify environment. If the coach already has a profile, feel free to skip ahead.
To create a new profile:
Click People
Click Clients
Click the + New Client button 
Enter their info
Click the Create & Edit button 
This will take you into their profile so you can set their permissions.
---
Assign Coach Permissions
Now that the coach has a profile, they'll need the right permissions to do all of the awesome stuff coaches do.
To assign Coach permissions:
Open the coach's profile
Click the Profile tab 

Scroll down to Roles & Permissions
Check the box next to Coach 

Click the Save button
If you are NOT using Payroll, you're all set! You can assign the coach to classes, and they'll be ready to roll.
If you ARE using Payroll, however, our last step will be to set up the coach's Payroll settings.
---
Set the Coach Up in Payroll
If you're using Payroll, you'll need to configure the coach's payroll settings before assigning them to a coach to a class.
To set a coach up for payroll:
Click Financial
Click Setup Payroll
Click into a Position (Assistant Coach, Head Coach, etc.) 

Click the Edit button next to the program you'd like to assign the coach to
Click the Add Employee dropdown
Select the Coach
Set their rate for the program
Click the Save button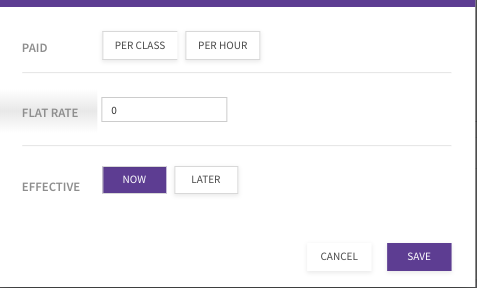 Please repeat the steps above for each program the coach will be coaching and for each Position (Head Coach, Assistance Coach, etc.) they'll fill.
And that should do it! You can now assign coaches to classes, and they'll be good to go.
If you need any additional assistance with Changing a Default Location, feel free to reach out to our team at support@wodify.com or via Priority Live Chat in your admin account (Promote only).