The Client Insights dashboard will help you better understand your current clients and break them down into demographics, memberships, and important upcoming dates.
Client Information
This section will allow you to really know who is walking into your business, including
Active Client Membership Breakdown:

This information will help you see how many of your members are paying members, and how external events like COVID-19 may be affecting your number of memberships on hold.
Active Clients by Gender:

This information will allow you to see if you need to grow your business to attract members from a certain gender. This is a dynamic graphic and will update if more genders are added.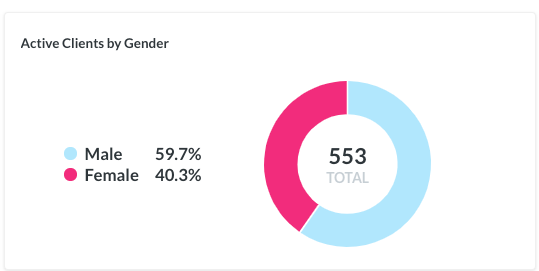 Current Active Client Demographics:

This information will allow you to see the ages and genders of your current clients and can be helpful in determining if you need to market your services to different age ranges and genders.

Average Length of Engagement (LEG) by Gender:

This information will allow you to see your retention period, and help you determine whether you need to change practices to help keep clients at your business longer.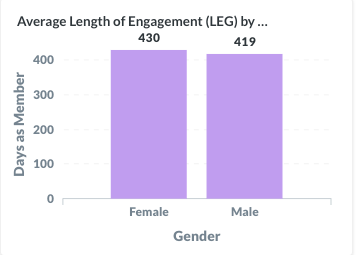 Active Clients Home Map: This provides a visual of where your clients are located based on their home state. It is a useful report if you are looking for client contact information.

Important Dates
Upcoming Anniversaries and Birthdays (30 Days):
This section allows you to see important anniversaries and client birthdays, to provide a personalized touch to interact with your clients.

Data Table
The data table allows you to see information on all of your active athletes in an easy to read table format. You click on download full results by hovering over the report to export the information to a spreadsheet. This will allow you to manipulate the data however you'd like.

If you have any further questions about Insights-Clients, reach out to our team at support@wodify.com or via Priority Live Chat in your admin account (Promote only).