Groups allow you to link clients together, making it easy to track which clients are connected. This is great for keeping track of families, couples, and teams!
In Groups, you can set Guardians and Dependents, to allow parents to manage their children's accounts, without having to sign in and out or create a new email address for their child. You can also share payment methods between Group members, for family or corporate payment accounts.
In this article, we'll cover:
Adding clients to Groups
First, you need to assign the connected clients to their group.
Pull up the client's Client Profile under People > Clients or using the Shift+S Global User Search
Click into the Groups tab
Enter the name of a connected client (this client's spouse or child, for example) until you see the name auto-populate
Click ADD next to the name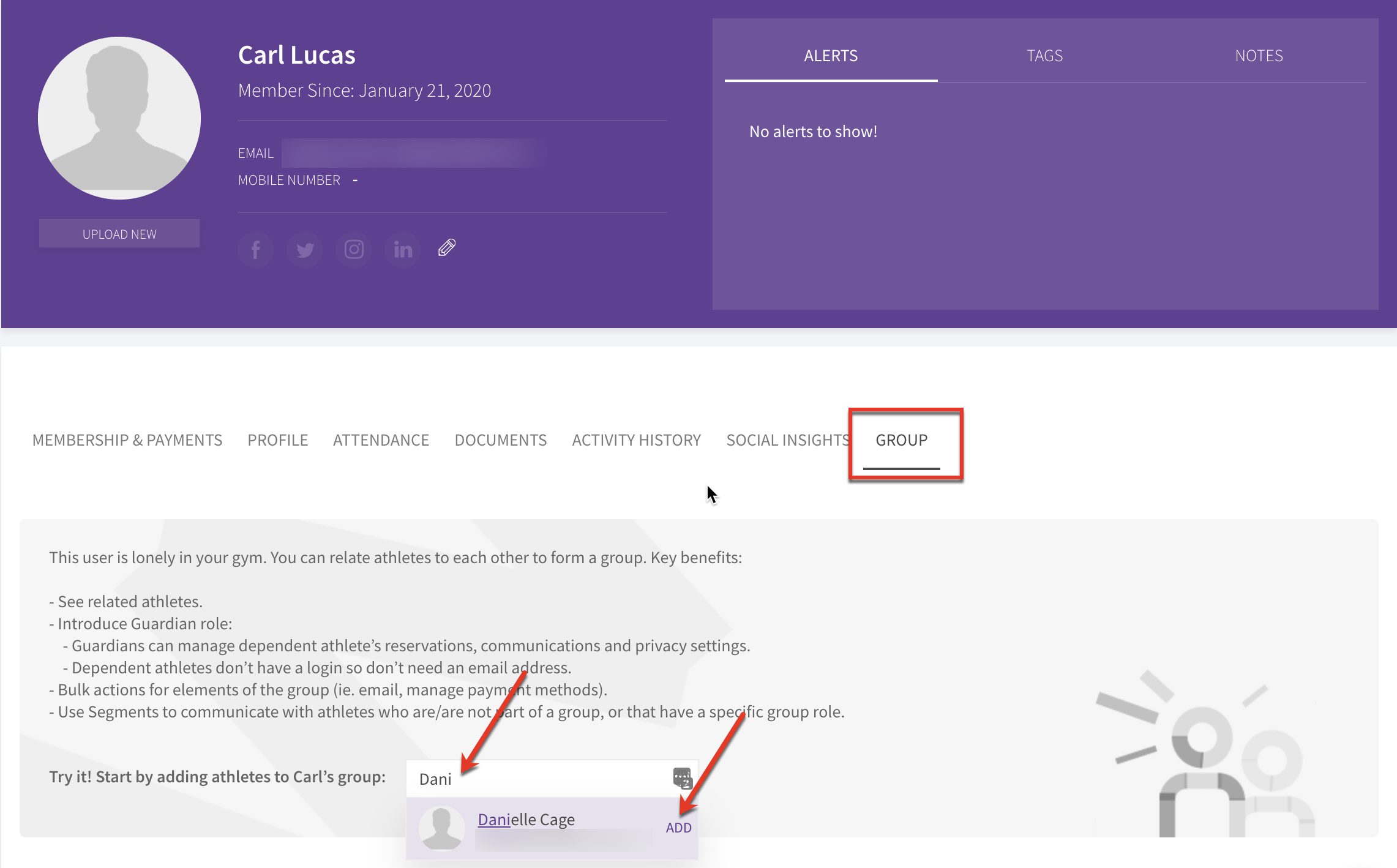 Here's what it should look like once the new group member is successfully added: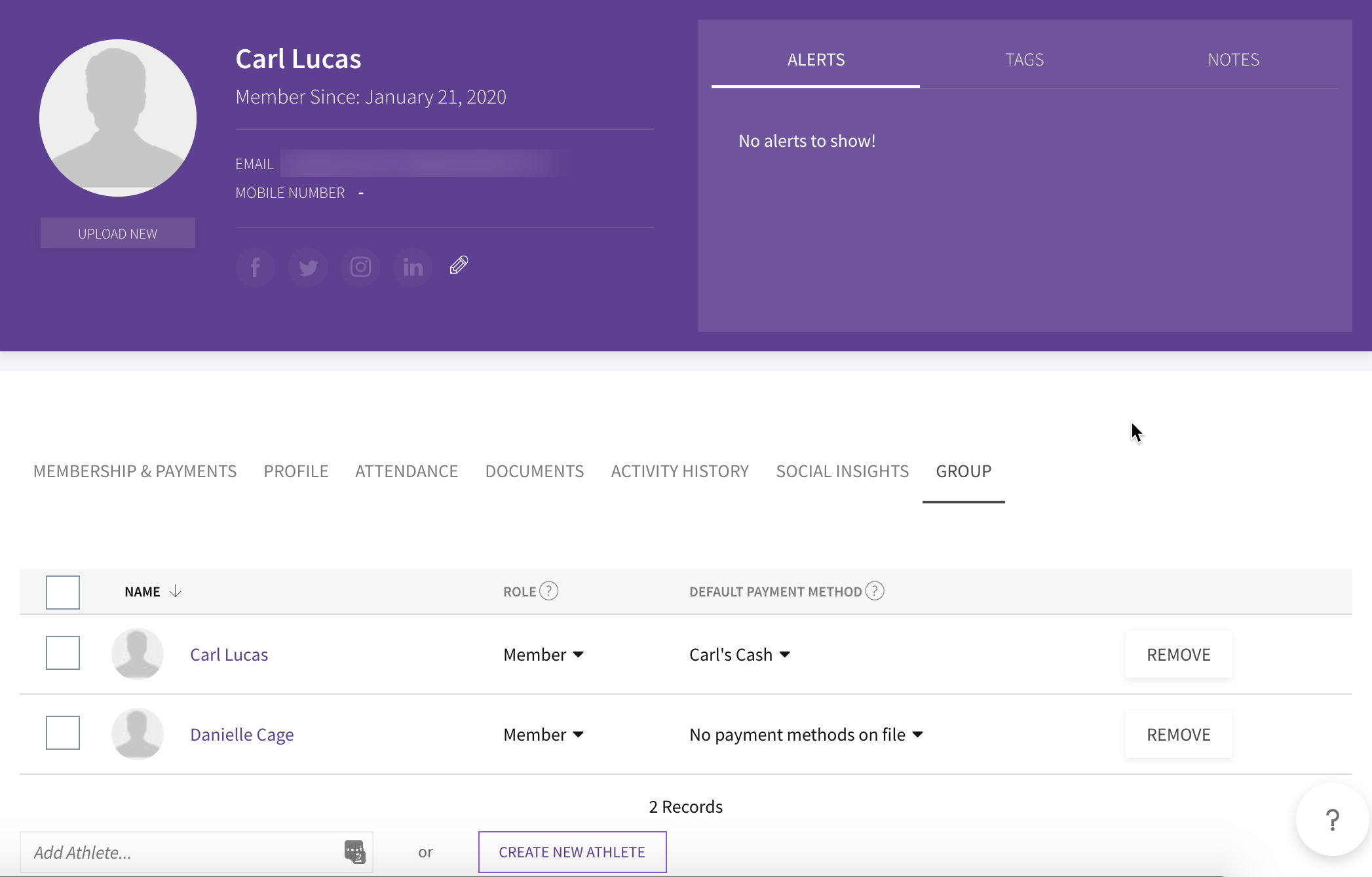 The group members should be consistent in the Client Profile of each client in the group.
Assigning Guardian and Dependent Roles in a Group
Once you've put a group together with the steps above, you can assign which members are Guardians and which members are Dependents. This is great for managing kids' accounts if they're too young to have their own email address or operate the app on their own.
Guardians:
Can switch between their account and any Dependent accounts through their Wodify login

No need to log out and log in as someone else

Can manage payment methods, class reservations and sign-ins, and any other details about Dependent accounts
Will receive all email communications intended for their Dependent accounts
Dependents:
Do not need their own email address
Do not have access to Wodify through their own login

All Wodify activity is controlled by the Guardian account

Will have all email communications forwarded to their Guardian accounts
Note: Assigning the Guardian role to a client will not automatically assign the Dependent role to other clients in that group, and vice-versa. You need to assign both Guardian and Dependent roles to the appropriate clients; any other clients can be left as Member.
To assign a Guardian or Dependent role to an existing client:
Click into the Groups tab in their Client profile
In the Role column, click into the dropdown menu next to the client
Assign the Guardian, Dependent, or Member role
You will get a Role successfully changed message after confirming the change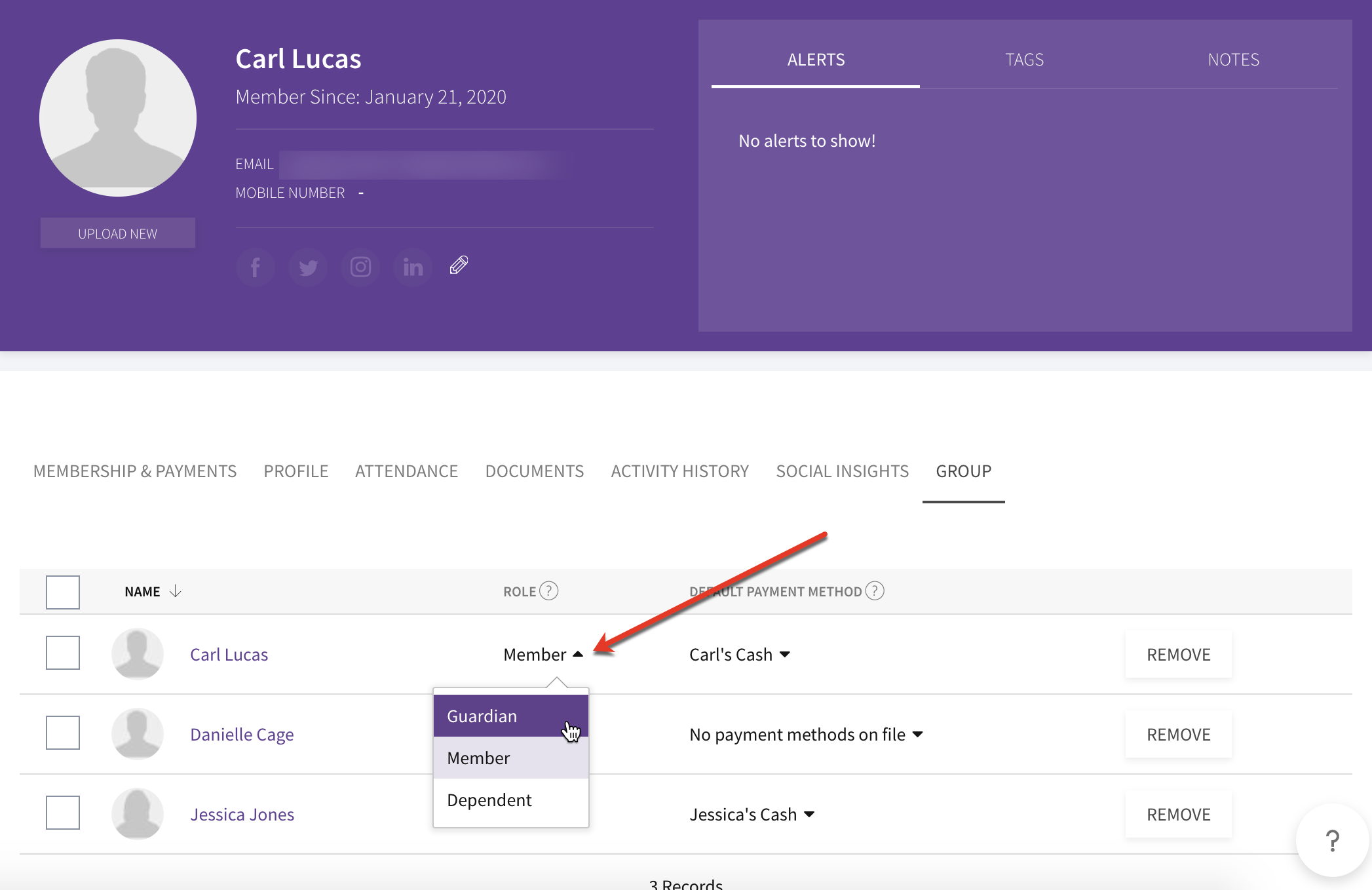 To assign the Dependent role when creating a new client:
Go to People > Clients and click the + New Client button in the top right corner
At the top of the Create New Client screen, toggle the Dependent Client? switch to on (purple)

Select the client whose group the dependent will join

If that client's group already has a Guardian, this will be the new Dependent's Guardian
If that client's group does not have a Guardian, you will need to assign a Guardian to the group using the steps above
If you do not choose another client to add to this client's group, the new client will be created with an autogenerated Wodify email address

Finish creating the new profile: Creating and Navigating the Client Profile
Sharing payment methods between clients
You are also able to share payment methods between clients. Clients don't have to be in the same group to share payment methods, but Groups will help you easily switch between shared payment methods once they have been shared.
To share a payment method:
Pull up the Client Profile of the client that owns the payment method, and scroll down to Payment Methods under Membership & Payments

This payment method should already be on file in the payment method owner's account

In the Actions menu to the right of the payment method, select Share
Enter the name of the client this payment method will be shared with
Click Save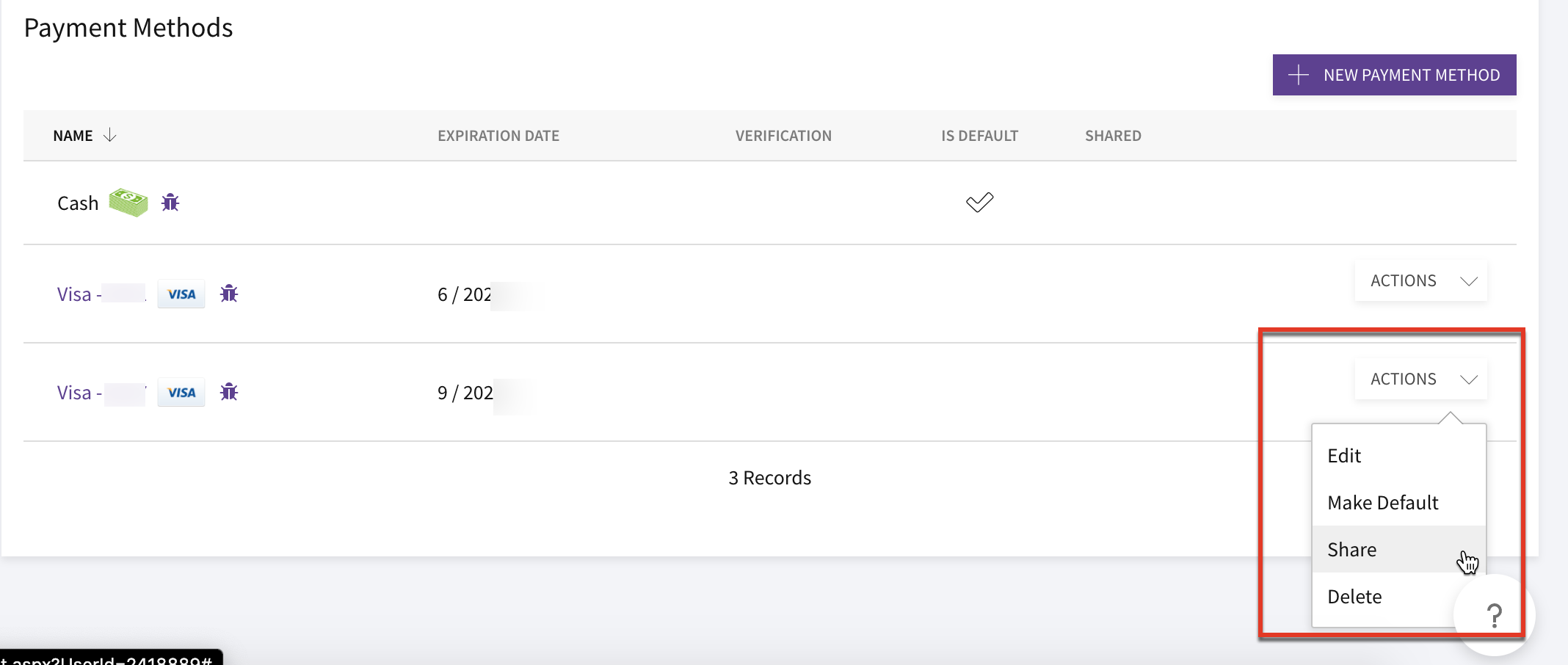 Once you share the payment method, you can see all the clients this payment method is shared with from the Payment Methods section of the payment method owner's Client Profile.

Clients with whom the payment method was shared will show that they're using another client's payment method in this section
You can also easily keep track of and change shared payment methods from the Groups tab in any Client Profile.

Just click the dropdown arrow in the Default Payment Method column next to any client, to see a list of shared payment methods that can be used for that client.
Note: Any time a payment method is shared with another client, the owner of that payment method will receive an email to notify them. They will receive another email if that shared payment method is assigned as another client's default payment method.
If you need any further assistance with Groups, Dependents, or Shared Payment Methods, please feel free to reach out at support@wodify.com or via Priority Live Chat in your admin account (Promote only).