Progression Tracking in Wodify allows you to track your clients' progress or journey through different levels. This is perfect for keeping track of belt levels, skill levels, loyalty programs; anything your clients can level up through!
In this article, we'll cover:
Setting Up Progression Paths
Once you've enabled Progression Tracking, you can start building the progression paths that your clients can attain levels in. This is where you'll build out those levels, and where you can view and manage clients of any level in that progress path.
To build a new Progression:
Once you've followed these steps, you should be taken back to the People > Progressions page, with your new progression on the top left corner of the page. You'll be able to Manage Clients or Set a level for each progression you create.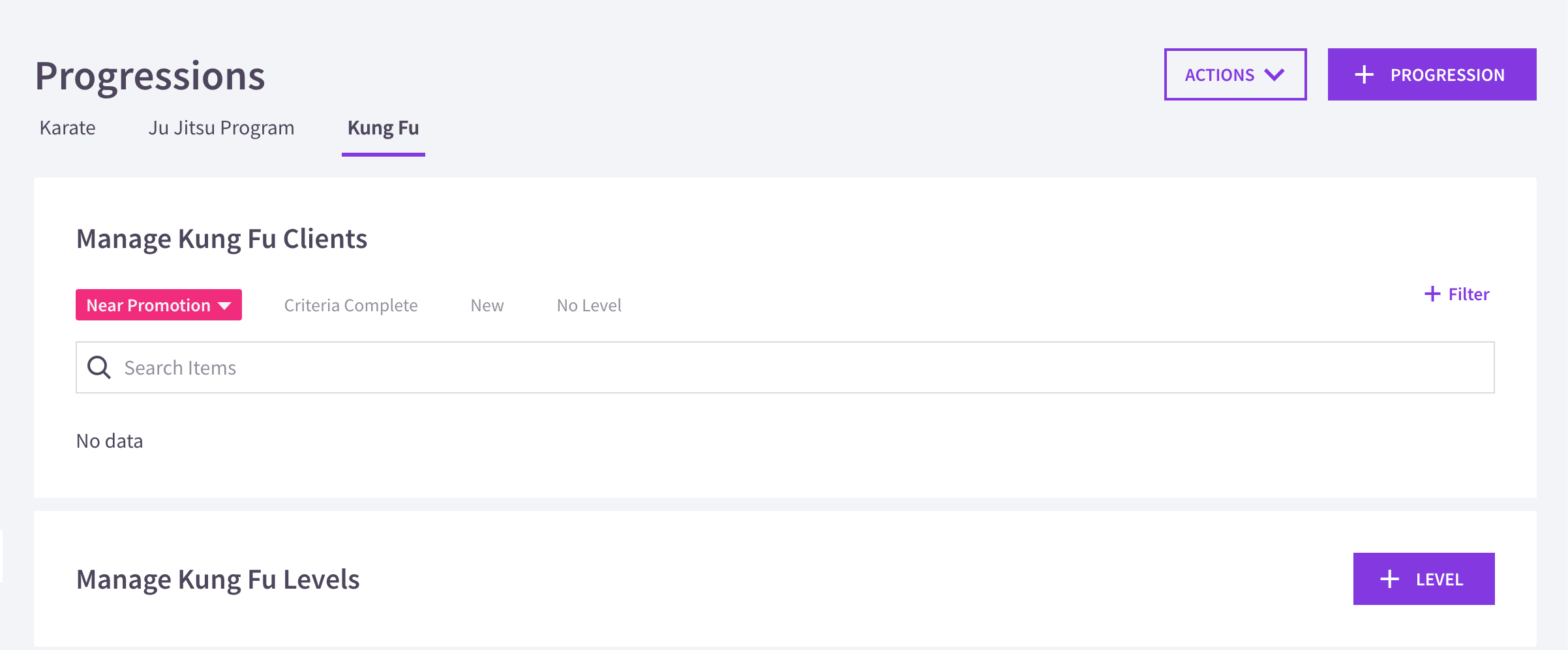 To edit an existing progression name:
To delete an existing progression:
Note: Deleting a progression will remove it from your system, and remove any levels in that progression from your clients. This action cannot be undone.
Setting up Levels
Once you've built out a progression path, you can build the levels that your clients will be promoted through in this path. Levels should be entered in the order your clients will progress through them, from the first level to the last level.
You'll be able to "promote" clients to the next level with the click of a button, in the order, those levels were created
You'll also be able to manually set clients to any level, regardless of order
To create a new Level, or edit an existing one:
Go to People > Progressions
Click Manage Levels then + level in the progression you would like to add a level to

Click on the pencil icon next to an existing level to edit it
This will bring you to the Level editing window, where you can set a name, description, and color/pattern for this level; along with the Progression Criteria needed to achieve all individual items to get them to the next level. Make sure to click Save so your updates are posted. 
Criteria - set individual goals to achieve the level.

You are able to select whether or not this tracker is visible to Clients in the Client App and add a description of how to achieve that goal as needed. 
Setting Up Criteria:
There are three types of Progress Criteria to determine when the client passed the requirements to proceed to another level:
Managing/Promoting Clients
Once you've built out your progressions and levels, you can start assigning levels to your clients and promoting them through the progression. 
Promoting a client will move them up one level, based on the order the levels in that progression were built
Setting a client's level will allow you to manually pick any level for that client, regardless of order
To begin managing clients:
Go to People > Progressions in Wodify Core
Navigate to the Progression you would like to promote a Client under



A list of Clients will appear depending on the filter you select. This list will include:


every client's name
their current level in this progression (clients without a level will be listed with "No Level")
the date they achieved their current level
A button to  Set Level for clients that don't currently have a level and the Criteria for each Client already on a progression level 

You can use Search Filters at the top of the page to narrow down the list of clients, or the Search bar to find a specific client
Note: You can also filter by client tags! This applies in both the Manage Clients screen and the Bulk Updates below.
Bulk Actions:
If you start selecting clients from the list, you will see a number of actions appear at the top of the list, available for the clients you've selected. 

Set Level - choose a level to assign to the selected clients

this list will include all of your current levels, as well as a No Level option
this allows you to correct any errors in level assignments, skip a level for a client, or add a level to multiple clients that don't already have one at once

Promote - move all selected clients to the next level up from their current level

This can be done for multiple levels at once; all selected clients will move up one level
Clients at the top level in the progression can not be promoted
Clients with no level can not be promoted (see Set Level above)

Set Date Achieved - change the date the selected clients achieved their current level

You'll be prompted to choose a date any time you promote a client, or set their level
This function will allow you to correct any errors in setting these dates

Export - download this client list in spreadsheet form

The exported spreadsheet will include first and last name, current level, and date achieved
This list will still include clients with no level
____________________
More Information:
If you have any questions about progression tracking, please feel free to reach out to support@wodify.com or via Priority Live Chat in your admin account (Promote only).