We love calendars as much as you do! With our new calendar emails (.ics.) feature, you can easily sync your reservations with Google Calendar, Outlook Calendar, and Apple Calendar. This article will walk you through how you can turn on or disable your calendar event emails, use a different email to receive the invite, and how you can use these invites with your Apple Calendar!
In this article, we will cover:
How to enable your calendar email
In short, enabling this will ensure that you will receive calendar invites for classes you reserve regardless of your calendar provider.
To enable:
Tap on Profile
Tap the ⚙ (top right) to enter your Profile Settings
Select Calendar emails
Toggle on to enable calendar emails
Toggle off

to

disable calendar email


How to use an alternative email
This would be a great use case for when you want to separate your notifications via email. For example, the ability to use your personal email for Wodify Mobile App - but send the events to your work calendar because that's what you check all the time!
Follow steps 1-4 to Enable calendar emails first (above)

Toggle on Use alternative email
Add your other email address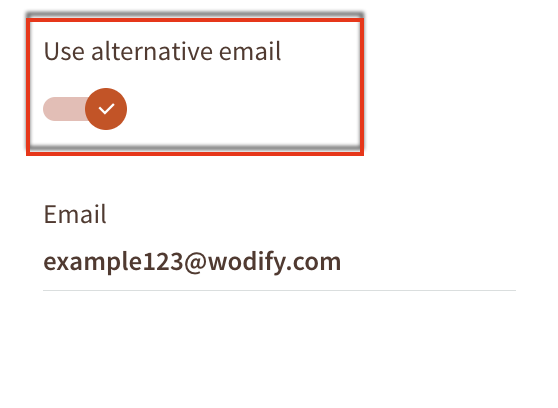 How to use the calendar email with Apple Calendar
To have calendar events appear automatically in your native Calendar app on iOS, you can add the account that is receiving the emails containing the event .ics files to your phone.
To do this, you'll need to add the account in Settings.
Open Settings and navigate to Calendar > Accounts

Add a new account to your device by selecting the account provider (e.g., Google)

Follow the instructions for your provider to add the account

When prompted, enable the Calendar option for the account

Open Calendar and navigate to the Calendars list

Make sure the new account is checked so that events show on your calendar
Note: You can customize how often you want to sync calendar data between the account and your phone in Settings > Calendar > Accounts > Fetch New Data
If you need any additional assistance with Apple Calendar Invites, feel free to reach out to us at support@wodify.com.